A Peachy Tale of Augusta's Ice Cream Sandwich Cookies
Michael Buteau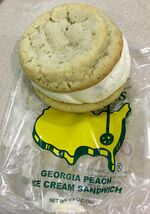 Mixed in with the traditional pimento cheese sandwiches at Augusta National Golf Club, an ice cream cookie sandwich has gained a strong following in the three years it has appeared on the menu.
The Georgia Peach Ice Cream Sandwich, a creation of the Christie Cookie Co. in Nashville, Tennessee, is only sold at the club during the annual Masters Tournament.
"That's part of the reason we bought it," Margaret Allen, an Antioch, California, native who was attending her first Masters, said between bites of the 3-inch-thick jaw-stretching confection. "When I thought of Georgia peaches, I had to have the peach ice cream. It's a little hard to bite because of the two fat cookies but it's yummy."
It's made from peach ice cream sandwiched between two full-size sugar cookies. Consistent with the tournament's low-for-a-sports-event food prices, it costs $2. And consistent with Augusta National traditions, club officials and Christie Cookie executives don't talk about them much.
Club Chairman Billy Payne prefers to keep Augusta National's business dealings private -- even ice cream sandwiches.
Like all vendors who do business with the private club, Christie Cookie doesn't advertise its affiliation. There is no mention of the ice cream treat on its website or the fact that it supplies Augusta National with thousands of individually wrapped cookies to sell for $1.50. As a general rule, companies doing business with the club don't talk about it.
"They are not allowed to use their affiliation with the club in the promotion of any of their business," Payne said in a news conference. "Nobody can."
Masters Partners
Other than the tournament's three main global partners, International Business Machines Corp., AT&T Inc. and Daimler-Benz AG's Mercedes-Benz, and international partners United Parcel Service Inc. and Rolex Group, Augusta National doesn't disclose commercial affiliations. Merchandise sold on the course comes from a variety of manufacturers, including some apparel made for the club under a "Masters Collection" title.
Inside the clubhouse gift shop, companies such as Ralph Lauren Corp. and Peter Millar LLC sell golf shirts under the Masters name. A Moore & Giles Inc. leather tote sells for $450 with its only visible marking on a patch sewn inside the bag.
So how do Christie Cookies end up on the course?
It started on the football field at Vanderbilt University, where company founder Christie Hauck played in the late 1960s. Hauck was a defensive back for the Commodores at the same time Payne was playing wide receiver for the University of Georgia. Hauck, who ranks fifth in school history with 11 career interceptions, might have played against Payne.
Christie Cookie
Hauck founded Christie Cookie in 1985 and sold it in 2000 to Toby S. Wilt, president of Nashville's TSW Investment Co.; his son, Fleming Wilt, an advisory board member of Nashville investment management firm Iroquois Capital Group Inc., and other investors. Toby Wilt is a member of Augusta National.
Fleming Wilt, through a spokesman, declined to comment on the company's affiliation with the club.
Payne said he was unaware that Hauck founded the company and said he was unsure about how the club selected Christie Cookie as a vendor.
"That's a little above my pay grade," Payne said. "The qualitative side would be the most important. In some cases, I'm sure bids are submitted but that's all I know about it."
Beyond the Masters, Christie also supplies cookies that are put out for guests in the lobby of Doubletree Hotels and provides the brownies used to make brownie sundaes at O'Charley's restaurants.
The only place to get the Georgia Peach Ice Cream Sandwich is inside the gates of Augusta National.
(Corrects details of Christie Cookie Co. sale in 12th paragraph.)
Before it's here, it's on the Bloomberg Terminal.
LEARN MORE