Vivendi's Dailymotion Talks Advance as France Demands EU Bid
Marie Mawad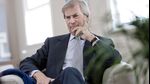 Vivendi SA, the French media company hunting for acquisitions, began exclusive talks to buy control of online video service Dailymotion from Orange SA, after France said it prefers a European buyer for the website.
The 217 million euros ($235 million) takeover bid is for an 80 percent stake in the smaller YouTube rival, the Paris-based companies said in a statement on Tuesday. It's Vivendi's first major purchase under the direction of chairman and billionaire investor Vincent Bollore, who faces pressure from Wall Street activists to distribute most of its cash pile, estimated at as much as $20 billion, back to shareholders.
"Dailymotion is a perfect fit within our industrial strategy," Vivendi CEO Arnaud de Puyfontaine, in New York this week to meet shareholders, said in a call. "We're betting on this platform as part of our vision for audiovisual and music businesses -- our shareholders understand that and support it."
Vivendi has been scouting for media deals to expand its television and music businesses, after it spent almost three years selling about $30 billion of telecommunications and video-game assets. Meanwhile Bollore, 62, has been boosting his investment in the Paris-based company with the goal of reaching a 15 percent stake, steadily increasing his influence.
Multiple Bidders
Dailymotion has been on sale for about two years, as owner Orange seeks a partner to invest in boosting the video service's business outside its home market. Orange received a rival bid from Germany's ProSiebenSat.1 Media AG, CEO Stephane Richard told officials during a National Assembly hearing Tuesday.
"We've sought the right partner many times -- a partner with international reach and a foot in the content world," Richard said. "It wasn't a simple task."
Another potential buyer, Hong Kong-based PCCW Ltd., this week said it dropped out of bidding because France prefers a European buyer for the video service. Less than two years ago, talks with Yahoo Inc. collapsed after France called the asset strategic and blocked its sale to a foreign investor.
Industry Minister Emmanuel Macron, speaking last week through a representative, said all options must be studied for Dailymotion, while keeping in mind the digital sovereignty of Europe. France owns a 24.9 percent stake in Orange.
Created in 2005 by Frenchmen Benjamin Bejbaum and Olivier Poitrey, DailyMotion gets more than 100 million unique visitors a month and the platform as a whole gets some 300 million, at best a third of the number for Google Inc.'s YouTube.
That difference in scale compared to its rival is DailyMotion's main challenge and may translate into a valuation discount as part of a potential offer by Vivendi, Erhan Gurses, a Bloomberg Intelligence analyst, said in a note before the announcement.
Before it's here, it's on the Bloomberg Terminal.
LEARN MORE