Google, Microsoft Join Obama to Fight Climate Health Woes
Justin Sink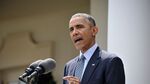 President Barack Obama is warning that climate change will start affecting Americans' health in the near future and he's recruiting top technology companies to help prepare the nation's health systems.
The administration unveiled a series of initiatives Tuesday to help moderate the effects it says a warming planet will have on increasing smog, lengthening allergy seasons and increasing risks of extreme weather-related injuries.
"The challenges we face are real, and they are clear and present in people's daily lives," said senior presidential adviser Brian Deese in a telephone conference call with reporters on Tuesday. Seven in 10 doctors are seeing effects on their patients' health from climate change that is "posing a threat to more people in more places," Deese said.
The White House plans meetings this week with medical professionals, academics and other stakeholders. Later this spring, Surgeon General Vivek Murthy will host a climate change and health summit in Washington.
The administration also is making more government data available to researchers. Google Inc., Microsoft Corp. and 10 other technology companies have said they'll use the data to help scientists fight infectious diseases and identify outbreaks around the world.
Obama plans to speak about the initiatives during a discussion at Howard University in Washington Tuesday.
'Most Vulnerable'
"The sooner we act, the more we can do to protect the health of our communities, our kids, and those that are the most vulnerable," according to a White House statement. The actions "will allow us to better understand, communicate and reduce the health impacts of climate change on our communities."
Google, based in Mountain View, California, has donated 10 million hours of high-performance computing to help scientists work to eliminate the spread of infectious disease. The Internet search company also will provide staff time to help the scientists create early warning capabilities and public disease-risk maps, according to the White House statement.
Microsoft, the software maker based in Redmond, Washington, is developing drones that would collect mosquitoes and conduct gene-sequencing and pathogen detection, the administration said in its statement. The drones can offer early alerts to authorities about rapidly spreading disease.
Climate Agreement
Last week, the Obama administration pledged to cut the nation's greenhouse-gas emissions by 26 percent to 28 percent by 2025. That effort is part of the administration's work to secure a global climate agreement during negotiations in Paris scheduled for later this year.
Critics of the efforts say the administration is hurting business and killing jobs. Senator Ted Cruz, a Texas Republican who has announced his campaign for the presidency in 2016, said last week that the "facts and data" didn't support claims made by "global warming alarmists."
"The satellite data demonstrate that there has been no significant warming whatsoever for 17 years," Cruz said in an interview with the Texas Tribune. "Now that's a real problem for the global warming alarmists. Because all those computer models on which this whole issue is based predicted significant warming, and yet the satellite data show it ain't happening."
The Obama administration believes there is "an increasing awareness and acceptance" that climate change exists, Deese said. The administration has also found that highlighting the health risks poised by climate change has helped build traction on the issue.
"One thing that we know is, the most salient arguments around climate change are associated with the health impacts and meeting people where they are," Deese said.