politics
Cecily Strong's Night at the Nerd Prom
No pressure at the White House Correspondents' Association dinner—you just have to one-up the leader of the free world.
By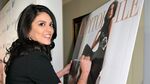 The comedian Cecily Strong has cited Amy Poehler as something of a role model, once telling the San Francisco Chronicle, "Every time I'm offered something, I think, 'What would Amy Poehler do?'" But Amy Poehler never has  hosted the White House Correspondents' Association dinner, as Strong will on April 25—nor has Poehler's fellow Saturday Night Live hero Tina Fey (what happened to their stated affinity for nerds?). Strong laughed, Tuesday afternoon, when I asked her if she had any idea why that might be. "I think that's all been their choice," she said, in a phone interview. "A lot of comedians will warn you against this room – but against my better judgment I said yes. Someone has to."
This may have to do with the fact that her father served as Associated Press bureau chief in the Illinois statehouse. It may also have to do with how game Strong seems, a roll-with-the-punches kinda gal.
Strong comes across as modest, slightly self-effacing, and utterly sporting. You wouldn't know, from her tone of voice, that she had been picked to stand alongside the president of the free world. And it's not like she doesn't realize how impossible a task it is to perform for this leader. "Obama's really, really funny," she said." That's another reason not to do it: you have to follow the funniest president. He's got great timing."
She pointed to his quip in his January State of the Union address—"I know because I won both of them." I wasn't sure whether I heard a tiny sigh. She said, "I've never been that cool in my entire life."
In 2006, Stephen Colbert hosted the WHCA dinner and roasted, even skewered, President George W. Bush, to the delight of liberals and probably the Swiss. (Example line: "Over the last five years you people were so good, over tax cuts, WMD intelligence, the effect of global warming. We Americans didn't want to know, and you had the courtesy not to try to find out.") Strong told me that she adored the moment, the preposterous courage: "That's one of the most amazing things I've ever seen," she said. She called Colbert a hero. She said that she considered herself more of a Colbert than a Stewart—"easier for me to go character"—but threw off any comparison between the two. "I would never want our names in the same sentence!" she said. "Too much pressure."
Christi Parsons, the president of the WHCA, has used the words "sly and edgy" to describe Strong's political humor. Parsons, a reporter at the Tribune Co./Los Angeles Times Washington bureau, wrote me by e-mail, in impeccable officialese, "she's a rare and unique voice and we're happy to bring a new perspective to the podium."
Of course, by dint of biology alone, that perspective is newer than it ought to be. The WHCA was founded in 1914, and in all its history, has had only three women host the annual dinner.  (The association didn't even allow women until 1962, when the reporter Helen Thomas persuaded John F. Kennedy to make things right.) Strong, as I wrote in November, will be the fourth. I asked her how this might play into her performance. 
"Once I'm up there and I'm in a gown—there's been a long time since there's been a gown at the podium," she said. "I'll probably mention that I'm female, too."
And then, "I also see myself as a gay man, and not just a woman."
Strong has a tendency to play things flat, which can play to her advantage. And she isn't in the business of analysis, doesn't see her task as politics. "I don't know that Tina Fey would want to call herself political before just funny, funny and smart."
Strong continued, "She really appreciates the silly. I think 30 Rock was a great example of that." She added, "I'll laugh at Chris Farley falling every single time, forever. Not everything has to be serious."
Strong observed that nowadays, "everyone just wants to be outraged. Sometimes it's a little more challenging not to be." She spoke of the bravery of many comedians, like Joan Rivers—"saying crazy things, crazy in a good way."I asked her how she would characterize her comedy. She said, "I'm not as funny coming from an angry place as I am coming from a joyful place. That's just me personally."
Strong didn't want to reveal the content of her performance later this month. She said there'd be loads of slam poetry, 'yo mama' jokes, all the Snaps albums—then informed me she was kidding. "It won't just be me telling jokes," she said; she doesn't come from a strictly stand-up routine. There will be "multimedia bits," she revealed. I asked if she would do her beloved recurring Girl You Wish You Hadn't Started a Conversation With At a Party character, the maddening woman in silky pink, curly tendrils, and a cute clutch, spewing smug political correctness that amounts to nonsense. Strong replied, "You know, not on purpose ever – but that is so much a part of me that it may come out on accident."           
But considering the state of the country, she said, she'll probably savage the latest awful news. The religious freedom laws, for instance: "I'll probably spend 18 minutes on that." The other two, she said, she would devote to pet jokes.
She told me that she counts herself as an Obama supporter—"I support a lot of what he's done, obviously I'm not going to cheerlead everything that's come out of that that administration and that Congress but as a human being." She used the word "human rights-y" to characterize her activity (she's been involved, in the past, with Planned Parenthood). The White House, she said, has given her no direction—"they trust me, I guess," she shrugged—but that she had met with Obama's speechwriter.
She's met the president before, too: "Not in any ways that he remember." Was this a tease? She declined to tell me when. "I plan on putting him on the spot."
I asked if she were dreading the performance, but she said that there wasn't much time for that, now. She's having her first official writers meetings Thursday night.
And what does she hope to leave her audience with? "I hope that they're awake. I hope to break even." She added, "Because I've seen House of Cards, I think they're all drunk murderers."
"The most important thing," she said, has to do with Obama. "I hope we don't wear the same dress. If he's in my dress, I'm going to be really pissed off."
CORRECTION: An earlier version of this story incorrectly said Jon Stewart had never performed at the dinner. He performed in 1997.
(Corrects to reflect Jon Stewart did perform at the dinner, in 1997.)
Before it's here, it's on the Bloomberg Terminal.
LEARN MORE