The Follow-Up to The Lean Startup Is Available Only on Kickstarter
Eric Ries is running one of the most successful publishing campaigns in Kickstarter's history
by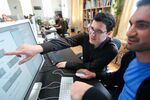 In his 2011 book, The Lean Startup, Eric Ries popularized the idea of the minimum viable product, a work put on the market before it is complete so early adopters will use it and help polish it in preparation for the masses. Begin talking to people who run startups, and it won't be long before you hear an earnest reference to the phrase by its acronym, MVP. Ries's followup to that book is an MVP in and of itself.
Ries is planning to release The Leader's Guide, a self-published version of the curriculum he uses in consulting work, later this year and only through Kickstarter. With more than a week to go before the campaign ends, Ries has raised over $310,000 (more than double his $135,000 target), making it the eighth most-successful publishing campaign in Kickstarter's history.  
For $21, backers get a copy of The Leader's Guide—which won't be available anywhere else—and a copy of a book, tentatively called The Startup Way, he plans to publish next year through Crown Publishing Group. The almost 5,000 backers so far for The Leader's Guide will also form the focus group for The Startup Way, providing feedback and discussing ideas during its inception in an exclusive online community. Over 6,700 copies of the Leader's Guide are set to be distributed through the campaign, as are an equal number of copies of The Startup Way. 
Contributions to Kickstarter campaigns are generally seen as donations, not investments, but Ries's backers see something in it for themselves. Ries plans to find subjects for The Startup Way in his Kickstarter focus group, and if the book becomes as popular as The Lean Startup, this could mean a nice little taste of reflected prominence. 
People willing to contribute more to The Leaders' Guide campaign can also secure meetings with powerful people in the tech industry. Daniel Marcos, an Austin-based entrepreneur who runs a business education startup, paid $5,000 for a tour of venture capital firm Andreessen Horowitz and a meeting with one of the firm's partners. He says he would have supported Ries's campaign either way but sees the contribution as an investment. A limited-run book is nice. But an introduction to some of Silicon Valley's most prominent investors is better. "$5,000 for that—it's nothing," he says, optimistically placing the value at closer to $1 million.
Ries says he wanted to run a Kickstarter campaign to avoid the isolation that can come with writing a book. Pulling together a group of 5,000 potential subjects who actively want to communicate with him should be enormously helpful. It's not a completely novel idea. Walter Isaacson, for instance, posted passages from his 2014 book, The Innovators, online before it was published, sparking a public back-and-forth with some of his primary subjects. "For me the critical thing is to do new research, source new case studies," says Ries. "The goal of the community is not to have fun and chat. It's to have them test things and report back."
Ries acknowledges it's a bit awkward accept cash from people who want to be in his next book, but he notes that the money he's raising is intended solely to support the Kickstarter campaign. "I would feel differently if it was just pay to play," he says. "I know some authors who have offered that." 
Many authors have used Kickstarter to fund book projects. The most successful was a 2012 campaign to create a choose your own adventure version of Hamlet that raised $580,000. Another Hello Ruby, a children's book about coding, raised $380,000 and was picked up by Macmillan, which will publish a version of it this fall. What is unusual about Ries's project is that he already had the major publisher before taking to Kickstarter. 
Ries, Kickstarter, and his publisher, Crown, give slightly differing accounts of how nervous the author's experiment initially made his publisher, which also published The Lean Startup. In any case, Crown came around when it realized that Kickstarter could offer something it wasn't good at creating itself: a relationship with readers for a book that won't be published for more than a year. "Our assumption as we do preorder campaigns and stuff like that is that you can usually engage about three or four months early," says Tina Constable, senior vice president of Crown Business. In essence, Ries's book already has almost 5,000 preorders. Ries is paying Crown to print the book. 
Maris Kreizman, publishing project specialist at Kickstarter, says that the crowdfunding platform has recently been holding a series of meetings with all the major publishers about cooperating on various projects, including crowdfunding campaigns for book tours, and other projects in which authors can interact with readers. She says they're still in the hand-holding stage. "Part of my job has been talking to publishers and explaining that we're not in competition," she says. "We both want the same thing, which is for authors to sell books." 
Correction, 1:45pm, April 6: Corrected spelling of Maris Kreizman
Before it's here, it's on the Bloomberg Terminal.
LEARN MORE