Why Ted Cruz is Fighting 'the Fortune 500' on Gay Marriage
Fighting gay marriage and courting conservative votes by sounding like Elizabeth Warren.
By and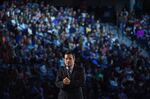 Iowa conservatives were asking how and why Indiana's Religious Freedom Restoration Act came under fire. Texas Senator Ted Cruz had found the culprit.
"The Fortune 500 is running shamelessly to endorse the radical gay marriage agenda over religious liberty, to say: 'We will persecute a Christian pastor, a Catholic priest, a Jewish rabbi,'" Cruz told a Wednesday morning audience of more than 300 people in Sioux City. "Any person of faith is subject to persecution if they dare disagree, if their religious faith parts way from their political commitment to gay marriage. The Fortune 500 has cast their lot in with that, but sadly, a whole lot of Republican politicians are terrified of this issue."
Not two weeks earlier, Cruz had been covered by his wife's health care plan at Goldman Sachs, a company ranked 74 in the last Fortune 500. Since then, Heidi Cruz had taken a leave of absence to hit the trail, and Cruz had found a new sword of populism. He'd fight what Franklin Roosevelt once called the "malefactors of great wealth," because they were destroying religious liberty, and if need be he'd fight them alone.
Suffice it to say, he won't be alone. The candidates who fill the crowded conservative lane of the 2016 Republican primary have all sought ways to brand big business and Wall Street as enemies that they can take on. Steve Scheffler, president of the Iowa Faith and Freedom Coalition, said that Cruz's comments speak to a concern that a nationwide assault on religious liberty goes beyond the political class.
Cruz "must have valid information'' that big business is ganging up on the religious community, he said. "Why these big corporations think they have to get involved in this, I really don't know,'' said Scheffler.
Cruz is taking an issue head on that will prove critical in Iowa, he said. "This nonsense is going to come to the churches, intimidating people of faith if it's not stopped,'' said Scheffler.
The corporate backlash to Indiana's RFRA was a key reason that the state's Republican legislators quickly passed a "fix." General Electric Co., Angie's List, Wal-Mart Stores, and Apple Inc. were among the businesses loudly decrying Indiana's move, and a simultaneous RFRA campaign in Arkansas. Tim Cook, the most powerful openly gay CEO in history, played a key role in toxifying the Indiana law with a weekend op-ed in The Washington Post.  "The days of segregation and discrimination marked by Whites Only signs on shop doors, water fountains and restrooms must remain deep in our past," wrote Cook. 
Conservatives never fully recovered from that framing of the law. Bob Vander Plaats, the CEO of the conservative Iowa Family Leader, called Cook a "hypocrite" who was furthering his own agenda.
"I guess what Tim Cook is saying is that the Jewish, kosher meat processor should be taken out of business if he would not serve non-kosher food," said Vander Plaats, using an analogy often deployed by former Arkansas Governor Mike Huckabee.
Apple aside, many of the companies that lashed at RFRAs this week, or that favor gay marriage in general, have often given to Republicans. Most of Wal-Mart's money goes to Republican candidates. One of Angie's List's key executives had donated to Indiana Governor Mike Pence's 2012 campaign. Goldman Sachs not only co-signed an amicus brief in favor of legal gay marriage—the company flew a rainbow flag outside of its office when the Defense of Marriage Act was struck down.
"Some of these businesses fund conservative causes because they believe in conservative values of governing, of low taxes and less regulation," said Vander Plaats. "And then, because the rainbow flag goes up, they feel they've got to be more in vogue than the next guy. They don't appreciate that this is leading them in a march to socialism and redistribution."
That's very much appreciated by Cruz's possible rivals for Iowa's vote. God, Guns, Grits, and Gravy, the book Mike Huckabee published in advance of his likely presidential bid, is almost entirely about the threat that "the bubble" of New York, Washington, and Hollywood pose to the "bubbas" who do not control Wall Street or pop culture. In it, Huckabee writes at length about the ways donors to gay marriage amendment campaigns were exposed and attacked, and about how the Cracker Barrel restaurant chain temporarily pulled Duck Dynasty products after a member of the cast denounced gay lifestyles.
"The very fact that a large company made such a boneheaded decision so impulsively is indicative that losing the faith community is seen as less of a problem than ticking off the militant secularists," wrote Huckabee, the 2008 winner of the Iowa caucuses. "It defies logic and it defies demographics."
Former Pennsylvania Senator Rick Santorum, who narrowly won the 2012 caucuses, has spent the years since arguing that Republicans can win blue collar voters by ignoring the advice of social and economic libertarians. The problem, he's said, is with the big businesses who represent ever more power in the party.
"The Republican Party is a conservative, but our funders are not," Santorum said at the 2014 Republican Leadership Conference in Louisiana. "Our funders tend to be more moderate. If you think about it, where is the money in America? The money in America is in the cities... when you hear them on every TV station, the experts and the funders, you're going to hear the voice of these people saying 'I don't know anyone who feels this way.' Well, get out of the big cities and you might meet someone who do!"
Huckabee, who's remained popular in Iowa since his 2008 win, has never strayed from that message. In that campaign, he worried that the GOP was viewed as the party of "the people who are getting $100 million bonuses and not the people losing their jobs because of it."
Yet Huckabee found himself at war with the Club for Growth, a network for economic conservative donations that attacked him endlessly for agreeing to tax hikes in Arkansas. In 2012, Cruz's campaign reeled in more than $700,000 from the Club for Growth. His populist rage against the "Fortune 500" and its gay rights advocacy is helping convince Iowa conservatives that he can do more than speak for them. It's convincing them that he can win.
"That quote is one of the reasons Cruz's presidential launch has exceeded the conventional wisdom's expectations," says Steve Deace, a conservative talk radio host based in Des Moines. "He's got the cojones to 'go there.' He's exactly right. You can't have a political party where the 20 percent writing the checks have different values on existential issues like amnesty, marriage, and religious liberty than the 80 percent of the people in the base."