Pimco Total Return Fund Redemptions Slow to $7.3 Billion
Mary Childs and Charles Stein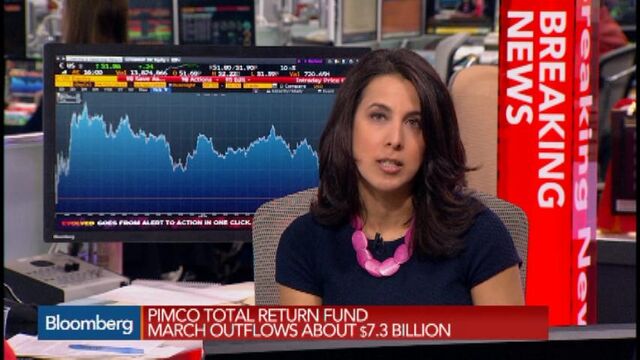 Redemptions at Pacific Investment Management Co.'s biggest mutual fund slowed for the third straight month as performance rebounded this year.
Investors pulled $7.3 billion in March from the Pimco Total Return Fund, down from redemptions of $8.6 billion in February and $11.6 billion in January, according to data from the Newport Beach, California-based firm. With assets of $117.4 billion, the fund narrowly hung on to its distinction as the world's biggest bond fund. The Vanguard Total Bond Fund, which tracks an index, grew to $116.5 billion as of March 31, Vanguard Group spokesman John Woerth wrote in an e-mail.
Pimco Total Return has suffered withdrawals of $107 billion since longtime manager Bill Gross left on Sept. 26. The pace of redemptions is easing as the fund, now run by Mark Kiesel, Scott Mather and Mihir Worah, advanced 2.6 percent this year, outperforming 96 percent of similarly managed funds, according to data compiled by Bloomberg. Total Return suffered the worst withdrawals in the history of fund management last year as investors pulled a record $105 billion. Assets have declined from a peak of $293 billion in April 2013.
The performance of Pimco Total Return has rebounded as the new managers reduced the fund's exposure to debt maturing within five years, as Gross went the other way.
Gross, who co-founded Pimco in 1971 and built it into one of the world's largest investment firms, left after losing a power struggle with senior executives. He now runs the $1.5 billion Janus Global Unconstrained Bond Fund at Denver-based Janus Capital Group Inc.
Vanguard Subscriptions
Vanguard, the world's second-biggest money manager, gathered a record $83.9 billion from clients in the first quarter, including $27.6 billion in March, the Valley Forge, Pennsylvania-based company said.
The firm, which manages more than $3 trillion in U.S. fund assets, is benefiting from a growing preference for index funds as investors lose faith in the ability of managers to pick individual stocks and bonds. In 2014, 21 percent of the funds that buy U.S. stocks topped their benchmarks, according to Chicago-based Morningstar Inc.
(A previous version of this story was corrected to show that Pimco redemptions have slowed for three consecutive months.)
Before it's here, it's on the Bloomberg Terminal.
LEARN MORE