Nickelodeon Bets on K-pop to Revive Ratings
The kids' network is creating a Korean music-inspired series
By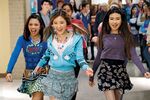 Louriza Tronco, Megan Lee, and Erika Tham bound onstage at a warmup party before the Nickelodeon Kids' Choice Awards wearing shiny black and gold outfits and splashes of pink or red in their hair. They strut and wave and belt out two songs, Light It Up and Party Tonight, from their upcoming show Make It Pop. "This is a dream come true for us," Tronco says from the stage.
If the Viacom kids' channel has its way, the three will be Nickelodeon's newest stars—in what could be one of its most ethnically diverse hits. Make It Pop, which premieres on April 6, is the first mainstream U.S. series inspired by K-pop, the fast-growing South Korean pop music genre. The actresses, chosen in a global casting call, are of Chinese-Dutch, Filipino, and Korean descent.
The show is part of the industry's attempt to lift ratings by making programs that mirror viewer diversity. "Our thinking is to reflect the world kids are living in," says Russell Hicks, Nickelodeon's president for content development. Networks, though, risk offending the very people they want to please. ABC saw that this season with Fresh Off the Boat, a comedy about Taiwanese immigrants. Eddie Huang, the chef on whose memoir it's based, said he felt they watered down his story.
Some K-pop fans have gone online to demand Make It Pop be canceled before it's even aired—they feel the show trivializes the art form. "People are just very protective of their artists and the genre in general," says Annie Lim, a senior editor at Allkpop.com, a U.S. K-pop site with 7 million monthly visitors.
K-pop began in the 1990s with a handful of Seoul-based record companies, including S.M. Entertainment and YG Entertainment, that groom and manage acts that typically feature attractive young men and women, often in groups, wearing brightly colored clothing. Their music, infectious dance pop, is promoted in online videos with carefully choreographed routines that fans often re-create at home. Songs in Chinese, English, and Japanese, as well as Korean, appeal to a global audience.
The genre went mainstream, thanks to the Korean rapper Psy, whose 2012 hit Gangnam Style was the first YouTube video to crack a billion views. Last year two K-pop bands, EXO and 2NE1, were among the 10 best-selling world-music acts, according to Billboard. K-pop YouTube views topped 7.6 billion last year, up from 700 million in 2010.
Nickelodeon's ratings have fallen as kids move to social media and online videos. Its ad revenue fell 7 percent, to $968 million last year, according to data from SNL Kagan. Viacom, whose stock has fallen 19 percent in the past year, has cut staff to boost profits.
The Glee-like Make It Pop follows three prep school roommates who form a musical group as they try out for a school production of The Wizard of Oz. They share wardrobe advice, practice dance moves, and deal with parental concerns that they go to a good college.
In November an audition script for the show popped up online. Sample dialogue: "My father will not accept me in a K-pop band. He'd take me back to Korea before he thought there was even a chance I was wasting my potential here." K-pop purists lit into the network on social media, accusing it of promoting stereotypes, not reflecting K-pop artists' hard work, and not being funny. Ananya Nair, a fan in Coventry, England, urged Nickelodeon to cancel the show in a Change.org petition that gathered more than 9,100 signatures. "There are already enough people who are ignorant about Korean culture, we don't need more," she wrote.
Nickelodeon leapt into damage control mode, flying K-pop bloggers and writers from teen publications such as Tiger Beat and J-14 to the Toronto set to meet the stars, who assured them that Make It Pop wants to pay homage to the genre, not exploit it. "K-pop has many elements. We come from different worlds, but with the love of music we come together," says Lee, 19, who grew up in Los Angeles. She trained as a singer, actor, and dancer for three years in South Korea, where she released a single, 8dayz, last year.
Rather than one episode per week, Nickelodeon will air a new Make It Pop every day for 20 days. Fans can watch the daily broadcast on TV or see episodes on the network's app or website.
Darcy Bowe, a media buyer at Starcom USA in Chicago, says advertisers will support Make It Pop, even with the controversy. "School, music, fashion, friendships," she says. "This really is the sweet spot of where younger girls' interests are."
The bottom line: Nickelodeon's advertising revenue fell 7 percent last year. It's hoping to get a boost from a show featuring K-pop.
Before it's here, it's on the Bloomberg Terminal.
LEARN MORE