Chris Christie Pardons Pennsylvania Woman Arrested on Gun Charges
Terrence Dopp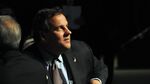 Governor Chris Christie pardoned a Philadelphia woman arrested in October 2013 for bringing into New Jersey a gun she was licensed to carry in her home state.
Shaneen Denise Allen was pardoned at noon Thursday by the governor, according to an e-mailed statement from his office.
The governor, who is considering whether to seek the Republican presidential nomination next year, said last month that he's open to changing New Jersey's strict gun laws, which have been criticized by members of his party. However, he said there isn't much hope of the Democratic-led Legislature relaxing those guidelines.
Allen, 27, was arrested following a traffic stop on the Atlantic City Expressway during which she told police she had a registered .38-caliber Bersa Thunder handgun in her purse, the Philadelphia Inquirer reported.
Prosecutors said in September she would be allowed to enter a pretrial intervention program that would have spared her jail time, the paper said.
Christie's order gives Allen "a full and free pardon for all criminal charges and indictments arising from the arrest occurring October 1, 2013."