When Life Gives You Religious Freedom Acts, Send Fundraising E-Mails
The request came ahead of the year's first fundraising deadline.
By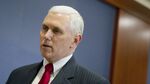 The Democratic Governors Association is trying to make hay from the fracas over Indiana's Religious Freedom Restoration Act. 
Tuesday night, the organization sent a fundraising e-mail to supporters from Gavrie Kullman, its digital director, saying:
I know you've been hearing the news. Republican Gov. Mike Pence is leading as many as THIRTEEN GOP states in passing laws that blatantly discriminate against people for being gay. We have to defeat these guys – there's just too much at stake.

Our very first FEC deadline of the year strikes at MIDNIGHT TONIGHT – just 7 hours away. Can you donate $5 or more right now to make sure Democrats have what it takes to defeat Gov. Mike Pence and Republican extremists across the country?
Opponents of the law, which Indiana Governor Mike Pence signed last week, say it will allow businesses, particularly vendors for wedding needs, to discriminate against gays. Pence has said that it is not a license to discriminate. 
In addition to the states referenced in the e-mail, where lawmakers are considering their own bills, 19 states besides Indiana already have religious freedom laws, though the language varies.