politics
Democrats Turn Against Religious Freedom Laws. Voters Don't Agree With Them.
Polling on religious freedom laws suggests that Democrats are playing a long game.
By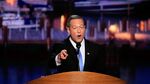 Last night, in the deluge of e-mails that mark the end of a fundraising quarter, donors to the Democratic Governors Association got a pitch for some emergency money.
Indiana's Republican governor, Mike Pence, won a narrow election in 2012, with just 49.5 percent of the vote, and until this week Democrats had not talked about defeating him beyond a sense that it would be preferable to beat every Republican up in 2016. Now, with entertainers making fun of Pence and Arkansas Governor Asa Hutchinson joining him in panic about the backlash over the Religious Freedom Restoration Act, Democrats are settling in as the party that opposes religious liberty laws.
Most of the party's potential presidential candidates have taken that stance. Former Secretary of State Hillary Clinton, whose husband signed the federal RFRA (under very different circumstances) that Republicans keep tugging for a lifeline, has emerged to tweet her disapproval of the Indiana law and her hope that Hutchinson vetoes the Arkansas law. Hutchinson has asked for the legislature to change the law, but has not committed to a veto–which means the law could take effect without his signature.
In an interview, Vermont Senator Bernie Sanders denounced Indiana's law. "I think that [Pence] is on the wrong side of history," he told Bloomberg. "This country has made huge progress in ending discrimination toward the gay community. Legislation like what he's supporting is outrageous."
Separately, former Maryland Governor Martin O'Malley used a morning speech in New Hampshire to denounce the RFRA as giving "license to the discrimination of gay and lesbian people." He went further, and denounced the early, unanimous support for the law from Republicans. "I think it's shameful that presidential candidates in this day and age would try to give cover to a law that is sweeping across a lot of Republican-governed states," he said. "It's not who we are as a country."
Standing alone in the Democrats' tumbleweed-strewn 2016 field, with no comment, was former Virginia Senator Jim Webb. A question to his exploratory committee went unanswered; Webb has said nothing on social media since a March 23 tweet mourning the loss of Singapore's founding father Lee Kwan Yew, "a brilliant thinker and leader whom I feel fortunate to have known."
Webb aside, it's now expected for Democrats to denounce RFRAs, just as large corporations are denouncing them. In doing so, all of the critics are on the wrong side of public polling. According to a March edition of the Marist poll, 54 percent of Americans agreed with  "allowing First Amendment religious liberty protection or exemptions for faith based organizations and individuals even when it conflicts with government laws." By a two-point margin, 47-45, even a plurality of Democratic voters agreed with that.
The margins were even larger in opposition to laws that proposed "penalties or fines for individuals who refuse to provide wedding-related services to same sex couples even if their refusal is based on their religious beliefs." No Democrat is seriously proposing this; the nearest cultural analogue may be the story of Memories Pizza, the Indiana shop whose owner said that he would decline to provide pies to gay weddings, and saw its Yelp! page firebombed with angry comments. (The popularity of delivery pizza at gay wedding ceremonials is well known.) Still, according to Marist, Americans oppose penalties on businesses like Memories by a 65-31 margin. The margin among Democrats: 62-34 against.
Republican presidential candidates may have gotten over their skis, and backed the current version of the Indiana law before Pence (and Hutchinson) started scrambling to change it. Democrats are endorsing something more radical than voters are comfortable with. They're betting on gay rights -- the lens through which the RFRAs are being viewed -- winning out. And that's especially important for Clinton, who was on the "wrong side of history" on gay marriage until it became safe and practical to switch.
For context, here's O'Malley's full answer from New Hampshire:
I think the wave of anti-gay and anti-lesbian legislation that's sweeping across many states is reprehensible and it's counter to everything that we stand for as a people. It's wrong, it is a thinly veiled–well, it's not even thinly veiled, I think the gig is up.

Look, when you have people like Apple and all other sorts of businesses and leaders stepping up and saying not only is this wrong, not only does this run counter to who we are as Americans, it's also really bad for business. In our state, we adopted policies of inclusion, respect, and anti-discrimination laws to protect trans-gender people, as well as making marriage equality a civil right that's enjoyed equally in our state.

There's a reason, and I think some of those things contributed to why the United States Chamber of Commerce, hardly a mouthpiece for the Maryland Democratic Party, named our state three years in a row number one state in America for innovation and entrepreneurship. Because economic inclusion, yes part of that is making wages go up so that workers earn more and can be better customers for businesses.

But part of that is about also creating an open society where the talents of all are respected, needed and welcomed and where people can feel at home and contribute to the innovative and creative life of an economy and a state. So, let's hope, my mom's from Indiana. I know there's a lot of really good people in Indiana, and this sort of ugly legislation is not consistent with the truer spirit of the people our nation or the people of Indiana.  
Before it's here, it's on the Bloomberg Terminal.
LEARN MORE