China's Xi Finds Eight Good Reasons to Host Uganda's President
Bloomberg News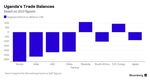 Chinese President Xi Jinping and his Ugandan counterpart Yoweri Museveni oversaw the signing of eight agreements to cooperate in communications, infrastructure, and other spheres, deals that will help further broaden China's reach on the African continent.
Two hydro power plants on the Nile River with a combined capacity of 783 megawatts are being built by Chinese companies. The 600 megawatt Karuma facility has been contracted to Sinohydro Corp. at an estimated cost of about $1.65 billion and the $556 million, 183 megawatt Isimba project was won by China International Water and Electric Corp.
Meanwhile, China Harbour Engineering Co. Ltd. on Monday signed a contract to build the Uganda segment of a regional railway project also linking Kenya, Rwanda and South Sudan. That project will involve the vast majority of the $8 billion Uganda plans to spend to upgrade its rail network, with the Export-Import Bank of China a key target for concessional loans.
"So far we don't have other projects in Uganda but we are optimistic toward Ugandan market as the country see fast development in recent years," Feng Xiaoli, a spokeswoman for China Harbour in Beijing, said in an e-mail reply to questions. "With its favorable conditions in geology and oil resources, we believe there will be a peak season for construction."
Museveni met Xi in Beijing March 31 near the end of the African leader's five-day visit to China. The deals covered assistance for economic and technical cooperation, loans for a Ugandan communications network and a project to upgrade the airport in Entebbe, among other things. Uganda has a population of about 36 million and in 2013 had nominal gross domestic product of $21 billion
China National Offshore Oil Corp., London-based Tullow Oil Plc, and France's Total SA are jointly developing the nation's crude finds of 6.5 billion barrels of oil resources. The three companies signed a deal with Uganda on oil-output use in February 2014.
— With assistance by Haixing Jin
Before it's here, it's on the Bloomberg Terminal.
LEARN MORE