MBAs Are More Satisfied at Wharton Than at Harvard Business School
One school pleases customers as much as a Discover card; the other is on TracFone levels
by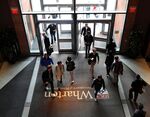 Students at the University of Pennsylvania's Wharton School of Business are more satisfied with their education than are people at the Harvard Business School, according to Wharton. On Monday, the Wharton Journal, a campus newspaper, touted the results of a survey of over 200 students showing that MBA candidates at Wharton rate the school higher on a measure of satisfaction than HBS students did when that school did its own research. 
The poll calculated the net promoter score for Wharton, a measure developed by management consultants to measure customer loyalty, by subtracting the share of students who were less enthusiastic about the program from those who would strongly recommend it to a friend. People who rate the company 0-6 on a 10-point scale are designated detractors, while those who give it a 9 or a 10 are considered promoters. The rest are "passives," destined to consume with zero opinion whatsoever.

About 62 percent of Wharton students rated the school 7 to 10, while 11 percent gave the school low marks. The results gave Wharton a 51 on the net promoter scale, which puts the school right below Discover and above State Farm in customer satisfaction.
According to HBS online newspaper the Harbus, which produced its own tally in February, the net promoter score for the school was 10 points lower. The same share of students—62 percent—said they would strongly hype the school, but a larger proportion—22 percent—was down on it. The upshot is that people are only slightly more likely to likely to tell you to go to HBS than they are to recommend that you buy a TracFone. 
Wharton students who were not overjoyed with the school cited concerns such as "the bathroom sitch" and the prevalence of "Ex PE [private equity] robots who just want to make money and die." Those who rated the program highly were most likely to credit "the people" for their experience. Unfortunately for "the people," they were also the most frequently cited reason students didn't like the school.
Before it's here, it's on the Bloomberg Terminal.
LEARN MORE