Junk Market Stigma Haunts Vestas as Traders Ignore Credit Ascent
Christian Wienberg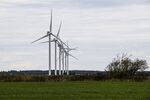 Vestas Wind Systems A/S is having a hard time shaking off its past in the junk bond market.
The biggest maker of wind turbines is still haunted by the performance of its previous bonds, which at one point yielded 26 percent. Danske Bank A/S is recommending clients buy the debt amid an improved credit profile, according to Niklas Ripa, a senior credit analyst. Danske has assigned Vestas a shadow rating of BBB-, the lowest investment-grade rank.
"There are many investors who see Vestas as a strong and very different company than a few years ago, but we're also aware that there are investors in the market who still view Vestas as a high yield," Ripa said by phone. "The old bond at some point traded at yields that were at deeply distressed levels, which indicated that the market at that time questioned Vestas' ability to survive."
Vestas, based in the Danish city of Aarhus, this month issued a seven-year 500 million-euro ($540 million) 2.75 percent bond, replacing the maturing five-year 600 million-euro note that carried a coupon of 4.625 percent. The new bond is a so-called Green bond.
Wary Investors
The new bond yields about 2.95 percent or about 253 basis points above the interpolated swap curve, widening from about 229 basis points after it was issued.
"The new bond is trading as if it were a high-yield issuance, but we see the credit quality as commensurate with a low investment-grade profile," Ripa said. "There are probably some investors who are a bit wary because of the volatile history of the company."
After cutting 3,000 jobs since 2011 and closing a third of its factories to survive a plunge in turbine prices, Vestas last month reported its first annual profit in four years.
Vestas is "very pleased" with interest in the bond and the secondary trading, Michael Zarin, the company's head of communications, said in an e-mail.
"A wide number of factors have an effect on the trading levels of the Green Bond, of which Vestas' perceived credit profile is only one," he said. "We perceive Vestas' financial position as strong. We'll leave it to others to comment on whether this should be considered investment grade."
Vestas isn't graded by Standard & Poor's, Moody's Investors Service or Fitch Ratings. Jyske Bank A/S, Denmark's second-biggest lender, sees Vestas as a Baa3 company, similar to Danske's BBB- shadow rating. Vestas could even improve its rating by as much as two steps to Baa1 next year, according to Janne Vincent Kjaer, an analyst at the bank.
Stronger Finances
"The risk of fluctuations in earnings is lower now, because Vestas has been able to reduce its break-even level," Kjaer said by phone. "Vestas has cut costs significantly and the balance sheet is much stronger."
Not all banks see Vestas as investment grade. Nordea Bank AB last month published a report grading Vestas BB+, corresponding to the top high-yield rank at S&P.
The yield on Vestas' old bond surged to a peak of 26.1 percent on May 21, 2012, during the depth of its crisis. The yield then fell over the next two years as Vestas recovered.
The volatility meant that over the bond's first 26 months, bondholders lost 33 percent of their investment, including re-invested interest. Over the last 34 months, investors made 88 percent, including interest.
Turbine makers led by Vestas, General Electric Co. and Siemens AG are enjoying record installations and an outlook for further growth this year. They're also coping with increased competition from regional manufacturers, which may keep turbine prices falling in 2015.
Vestas will need to balance demands for higher dividend payouts from its shareholders with the need to preserve cash, according to Danske's Ripa.
"It's important for management to signal to potential customers that its balance sheet is healthy, because Vestas is competing against some very large and well-established companies," he said.
Before it's here, it's on the Bloomberg Terminal.
LEARN MORE