politics
Rand Paul and the 'Moral Crisis' of Gay Marriage: A Timeline
The Kentucky senator's been consistent, leaving marriage up to the states.
By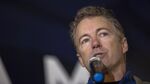 On Thursday morning, Kentucky Senator Rand Paul spoke at a prayer breakfast inside the Capitol Hill Club, right between the House offices and the Republican National Committee. The Christian Broadcasting Network's David Brody had exclusive access to the meeting, and had a camera right on Paul as he urged ministers and activist to battle the "moral crisis" that has led to mass acceptance of gay marriage.
"Don't always look to Washington to solve anything," said Paul. "In fact, the moral crisis we have in our country, there is a role for us trying to figure out things like marriage, there's also a moral crisis that allows people to think that there would be some sort of other marriage. And so, really there's a role outside and inside government but the exhortation to sort of change people's thoughts has to come through the countryside, from outside of Washington."
The video was flagged by People for the American Way's Right Wing Watch, which (unlike Brody) saw the "moral crisis" quote as the news. Two days on, CBN's version of the video has been taken off line. The RWW video remains, and has been covered as a pre-presidential bid Rand Paul flip-flop. "It seems the pressure to be all things to all people is resulting in the breakdown of his political brand," wrote Olivia Nuzzi in The Daily Beast.
Yet Paul really hasn't changed in five and a half years of discussing gay marriage. He entered politics after the marriage issue had stopped being a bona fide national winner for Republicans. The Federal Marriage Amendment, which had been supported by most GOP members of Congress in 2004 (though not by Texas Congressman Ron Paul, the senator's father), has not been reintroduced since Paul got to the Senate. Paul's been consistent on three points. One: That his own view of marriage is irrelevant. Two: What matters is that states get to define marriage. Three: Since you asked, he thinks gay marriage is morally wrong.
October 19, 2009
 In an interview with the Louisville Courier-Journal's Joe Gerth, candidate Paul says he's not interested in passing federal laws against gay marriage.
"I think marriage should be taken care of at the state level," he says. Asked if states should legalize gay marriage: "I don't really have a position that I'm willing to make on that." 
Five years earlier, Kentucky voters had amended the commonwealth's constitution to define marriage as between one man and one woman. A few months later, Paul's unsuccessful primary foe put the gay marriage answer onto a website about Paul's "strange views." But Paul won that election, and went on to face (and defeat) Democratic Attorney General Jack Conway, who did not make gay marriage an issue.
May 12, 2012
 Paul speaks to the Iowa Faith and Freedom Coalition days after President Obama proclaims that he has "evolved" on gay marriage, and now supports it.
"He said his views were evolving on marriage," jokes Paul. "Call me cynical, but I wasn't sure that his views on marriage could get any gayer."
The tone-deaf "gayer" joke makes the headlines, but just seconds later, Paul explains that conservatives need to be tolerant of other people while never giving up on their belief that gay behavior is wrong. "We understand sin," he says. "If we understand that it's a sin, we understand that people sin."
January 30, 2013
Paul appears on Focal Point, the radio show of the American Family Association's Bryan Fischer, and clarifies why he wants states to decide their own marriage laws.
"I'm not sure exactly how I'd come down on the federalization part," he explains. "My fear is that in federalizing it, we're going to lose the battle for the whole country. In keeping it state by state, which is the way marriage has always been adjudicated, we'll have states that continue to have traditional marriage. I think we're losing in large areas of the country now. If the urban areas are able to dictate, for the rest of the country, what our definition of marriage is, I'm really concerned about that."
March 3, 2013
At a roundtable with reporters, I ask Paul about how his ambition of winning back voters in blue states clashes with an issue like gay marriage.
"I'm not going to change who I am or what I believe in," Paul says. "I am an old-fashioned traditionalist. I believe in the historical definition of marriage. That being said, I think contracts between adults—I'm not for limiting contracts between adults. In fact, if there are ways to make the tax code more neutral where it doesn't mention the word marriage, then we don't have to redefine what marriage is. We just don't have marriage in the tax code. If health benefits are a problem, why don't we not define them by marriage? Why don't we say, you have another adult who lives in the house, and a kid who lives in the house can be part of family coverage? Then you don't have to redefine, and have people like myself, and people who live in the southeastern part of the country, we don't have to change our definition of what we think marriage is, but we allow contracts to occur so there is more ability to [make] the law neutral."
This is seen as Paul distinguishing himself from the Republicans who want to ban gay marriage. Yet he hasn't given up on the goal of individual states defining marriage to exclude gays; he's looking for ways for national Republican candidates to declare a truce, by making access to federal marriage benefits irrelevant.
June 26, 2013
 The Defense of Marriage Act is struck down by the Supreme Court, and Paul goes on Glenn Beck's radio show to explain his own views on what happened.
"It is difficult because if we have no laws on this people take it to one extension further," Paul tells Beck. "Does it have to be humans? You know, I mean. So there really are—the question is what social mores, can some social mores be part of legislation? Historically, we did at the state legislative level, we did allow for some social mores to be part of it. Some of them were said to be for health reasons and otherwise, but I'm kind of with you, I see the thousands-of-year tradition of the nucleus of the family unit."
Paul's Senate office explains to the Raw Story that he was being sarcastic about the possibility of redefining marriage as between humans and non-humans. He has a bigger problem, anyway: ABC News's Jeff Zeleny lobs a question about the decision to Paul as the senator walks through the Capitol. "As a country we can agree to disagree," he says. He then (in Zeleny's words) praises the author of the decision, Anthony Kennedy, as "someone who doesn't just want to be in front of opinion but wants government to keep up with opinion."
That quote gets around. Social conservatives in Iowa call it a gaffe, a signal that Paul actually agreed with Kennedy.
In the 21 months since, gay marriage has faded as a Republican issue. Even as states have used the DOMA decision of precedent to strike down marriage laws, Paul's stayed away from the topic. (It's helped that his Kentucky is one of the last states where the local constitutional definition of marriage has stood.) In several trips to see Paul speak in Iowa, South Carolina, and New Hampshire, I've never seen him asked about it. Paul's potential problem is not what he told pastors this week—it's how he responds to this summer's Supreme Court decision, which may undo the federal regime of marriage definitions that he's supported since he entered politics.
Before it's here, it's on the Bloomberg Terminal.
LEARN MORE