Martin O'Malley Takes Aim At Hillary Clinton's 'Crown'
The former Maryland governor sounds like he's preparing to take on the former secretary of state for the Democratic nomination.
By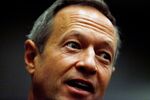 Martin O'Malley on Sunday sounded awfully like someone who plans on challenging Hillary Clinton in a Democratic primary. 
Appearing on ABC's This Week, the former governor of Maryland talked about the country's need for "new perspective" and "new leadership."
"Let's be honest here," O'Malley said. "The presidency of the United States is not some crown to be passed between two families." 
O'Malley also hinted that a Clinton nomination is not a sure thing, possibly alluding to the 2008 primary, when she was also thought to have had it locked down. 
"History is full of times when the inevitable frontrunner is inevitable right up until he or she is no longer inevitable," he said.  
O'Malley would not say if he had a time in mind to announce his intention to run, saying that he will decide this spring. 
Over on CNN's State of the Union, House Speaker John Boehner said competition within the wide field of candidates will make the ultimate nominee stronger. He talked about his own experience, both selling cardboard boxes and when he was first running for public office, saying that having to compete made him a better candidate. He recalled running in the primary for congress against a candidate named Tom Kindness, and the challenge of getting people to pronounce his own name correctly. 
"Now, if you try to have a name that looks like 'boner' running against a guy named Kindness, it's a miracle I won." he said.