Nigeria Election Results Flow In as Opposition Cries Foul
Dulue Mbachu, Yinka Ibukun and Paul Wallace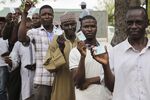 As results from Nigeria's closely contested elections started coming in on Sunday, the main opposition called for a re-run in the key oil-producing Rivers state, where it alleged widespread rigging and intimidation.
Thousands of All Progressives Congress supporters marched peacefully through the streets of Port Harcourt, the state capital, to the electoral commission's local offices, watched by policemen in riot gear.
The protests broke out during an election in Africa's largest oil producer that pits President Goodluck Jonathan, 57, and his People's Democratic Party, against a united opposition APC led by former military ruler Muhammadu Buhari, 72. The PDP has governed since the army relinquished power in 1999.
While the Rivers state vote may not affect the overall election outcome, the standoff has the potential to stoke post-election violence, said Folarin Gbadebo-Smith, managing director of the Center for Public Policy Alternatives in Lagos.
"There should have been statements from both parties telling people to calm down," he said by phone. "They are still in combat mode. This is no time to be stirring up emotions."
The election takes place against the backdrop of a six-year insurgency waged by the Islamist militant group, Boko Haram, and a plunge in the price of oil, Nigeria's biggest export.
'No Election'
The APC has painted Jonathan's government as corrupt, incompetent and incapable of defeating Boko Haram, which has killed at least 1,000 people this year, according to Human Rights Watch. The PDP says Buhari is too old and human rights abuses were rife during his tenure between 1983 and 1985.
The APC called for an annulment of the vote in the southern Rivers state, alleging that its supporters had been arrested and intimidated, while election officials, police and the ruling party colluded to distort the outcome.
"In substance, there was no election in Rivers state," Ibim Semenitari, a spokeswoman for Governor Rotimi Amaechi, said in an e-mailed statement on Sunday. Amaechi defected from the PDP to the APC in 2013.
The Rivers state police commissioner will respond to the allegations later, spokesman Ahmad Muhammad said. Christina Nwobu, a spokeswoman for the local electoral commission, didn't respond to two calls and a text message seeking comment.
Extended Voting
PDP spokesman Olisa Metuh said he wasn't immediately available to comment and campaign manager Femi Fani-Kayode didn't answer calls to his mobile phones or immediately respond to a text message.
While the Independent National Electoral Commission hasn't released any centrally collated results, an unofficial tally of 491,408 votes by Nigeriaelections.org, supported by the U.K.'s development ministry and West African NGO Network, gave Buhari 58 percent and Jonathan 42 percent. About 56 million of the 68.8 million registered voters were issued cards that enabled them to cast ballots.
The results "are being collated," said Kayode Idowu, a spokesman for INEC. "It is hoped that we should pull through within 48 hours."
The vote was extended for a second day at about 300 of the more than 100,000 polling points, where the late arrival of officials and faulty equipment caused delays on Saturday. The glitches persisted in some areas on Sunday.
Election Violence
"I'll feel very, very bad if I can't vote," builder Ayinde Adebanjo Abayomi, 36, said as he waited to cast his ballot for a second day in the Lekki-Epe district of Lagos, the commercial capital. "Some places are counting and we haven't even gotten accredited."
At least 43 people were killed in election-related incidents on Saturday, according to provisional data from the Situation Room, a coalition of civil-society groups monitoring the ballot.
National police spokesman Emmanuel Ojukwu said he was unaware of any fatalities on Sunday and that voting went smoothly aside from incidents in three of the 36 states -- Gombe, Yobe and Enugu.
United Nations Secretary-General Ban Ki-moon described the elections as "largely peaceful" and orderly, and said he was "encouraged by the determination and resilience shown by the Nigerian people." Attempts to disrupt the vote were to be condemned, he said in an e-mailed statement.
Boko Haram
On the eve of the election, Boko Haram militants burned down the northeastern town of Buratai, killing 25 people and injuring 30, Borno state Governor Kashim Shettima told journalists in the state capital, Maiduguri.
Suspected Boko Haram gunmen killed at least eight people at polling stations in the northern state of Gombe on Saturday, Fwaje Attajiri, a police spokesman for the state, said by phone.
On Sunday, gunmen traveling in a 10-vehicle convoy attacked polling stations in the Kirfi and Alkaleri local government areas in northern Bauchi state, Haruna Mohammed, a regional police spokesman, said by phone. There were no immediate reports of casualties.
To win, a presidential contender must take at least 50 percent of the total vote while winning a quarter of the ballots in a minimum of 24 of the 36 states. If none of the 14 candidates secure such a victory, a run-off would be held within seven days after the results are announced.
Before it's here, it's on the Bloomberg Terminal.
LEARN MORE