Kleiner Trial Jury Saw Pao Performance as Key Factor in Verdict
Robert Burnson and Pamela Maclean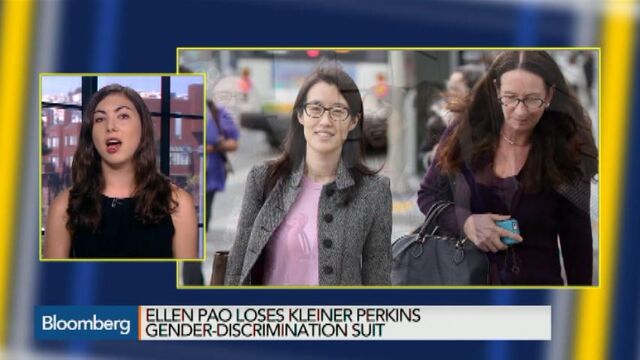 Ellen Pao lost the case that put Silicon Valley on trial because a jury believed her venture capital bosses when they said her work fell short, one juror said.
The former Kleiner Perkins Caufield & Byers junior partner accused the firm of bias for passing her over for promotion, and then firing her in retaliation when she complained. Kleiner partners denied the allegations in the five-week trial, contending she was dismissed for performance.
The jury of six men and six women, including a teacher's aide, a painter and a biotech manager, agreed with Kleiner.
A key factor for the panel's majority was that Pao was unable to improve aspects of her job performance, said juror Steve Sammut, 62, a manufacturing representative. He cited performance reviews during her seven years at the firm.
Pao's shortfalls "tended to stay the same through the years," while concerns "dropped off" in reviews of successful male colleagues, Sammut said after Friday's verdict in San Francisco state court.
Still, at least two jurors sided with Pao on each of her four claims that the firm discriminated against her and retaliated after she complained.
Clear Motive
The timing of Pao's firing -- five months after she filed her lawsuit -- made it clear that retaliation was the motive, said Marshalette Ramsey, 41, who voted in favor of Pao on each claim. She said the evaluations supported Pao's claim there was a double standard, that men were rewarded for having sharp elbows while women were faulted for not being team players.
"It seemed to me that the men with those same character flaws were able to be promoted and succeed at Kleiner Perkins," said Ramsey, a station manager for the San Francisco area's rail transit agency.
"I'm very disappointed in the verdict," she said.
On each of the four claims, at least one man joined Ramsey in siding with Pao.
"The balance was very, very close and it was difficult to split those hairs," Ramsey said. "We hammered out on little things, big things. We nitpicked to come up with the fairest verdicts."
Juror Doubts
Jurors didn't know whether to believe some of Pao's complaints, including about a private plane ride during which men allegedly talked about porn stars and lingerie models. There was nothing in writing to verify the claim, Sammut said.
"It really became 'he said, she said'."
After three days of deliberations, jurors returned to court at about 2 p.m. Friday in San Francisco to deliver a decision.
After the verdict was announced as a sweep for Kleiner, the judge polled jurors to verify their decision.
When that polling revealed an 8-4 split on one claim, falling short of the required nine-vote majority, state court Judge Harold Kahn sent the panel back to the jury room. Jurors returned 2 1/2 hours later and affirmed their decision, this time with a 9-3 vote in favor of Kleiner.