Yucca Site Seen Gaining in Opponent Reid's 2016 Senate Departure
Ari Natter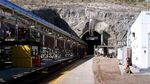 The departure of Harry Reid after 2016 may boost chances to revive the moribund Yucca Mountain nuclear waste repository in Nevada, a project the Senate minority leader has spent his career opposing.
Reid's announcement Friday that he doesn't plan to seek re-election as Nevada's senator is "constructive for Yucca," Christi Tezak, an analyst with ClearView Energy Partners, said in an e-mail.
Senate Democrats who were less likely to back the proposed waste site 90 miles north of Las Vegas with Reid in charge may feel free to do so, said Tim Frazier, who previously managed nuclear programs at the Energy Department and now serves as a senior policy adviser to the Bipartisan Policy Center.
President Barack Obama's administration in 2010 cut funding for Yucca, saying it wasn't a "workable option." House Republicans want to revive the project, which has cost taxpayers and industry more than $15 billion.
"The proposal to dump nuclear waste at Yucca Mountain threatened the health and safety of Nevadans and people across our nation," Reid said in a statement on his Senate website. Yucca "is simply not a safe or secure site to store nuclear waste for any period of time."
The Energy Department as recently as this month said it had no plans to find another use for the Yucca Mountain site, according to a letter to the House Energy and Commerce Committee.
A former Nuclear Regulatory Commission Chairman, Gregory Jaczko, was a former science adviser to Reid and staunch opponent of the Yucca project as well. A report by the agency's inspector general in 2012 alleged Jaczko improperly ended consideration of the Yucca site. Jaczko, who resigned in May 2012, denied any wrongdoing.
Congress in 1987 designated Yucca Mountain as the site for a geologic repository to store radioactive waste from the nation's fleet of commercial reactors.