Why Apple Feels the Need to Defend Steve Jobs
Executives criticize Walter Isaacson's book as a new biography comes out. What's really biting them?
By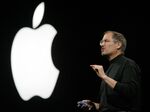 The normally unforthcoming executives at Apple have been praising a new book about Steve Jobs in recent days, using the opportunity to also diss Walter Isaacson's three-and-a-half-year-old biography of their former boss as an unfair portrayal.