Behind Scott Walker's Border Visit Is His Immigration Muddle
His imprecision and distinctions between "amnesty," citizenship, and legalization have left a mess.
By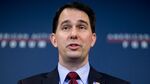 On Friday, Scott Walker toured the Rio Grande Valley by helicopter as a guest of Texas Governor Greg Abbott, who, like the Wisconsin governor, has called for more robust security along the U.S. border with Mexico.
But improving border security isn't a position that Walker has held for that long, at least according to a 2013 interview with the Wausau Daily Herald. "You hear some people talk about border security and a wall and all that," he told the Wisconsin newspaper. "To me, I don't know that you need any of that if you had a better, saner way to let people into the country in the first place."
While Abbott met with reporters after the tour, Walker bolted, avoiding questions about a Wall Street Journal report that he told a private dinner of New Hampshire Republicans on March 13 that he supports allowing undocumented immigrants to stay in the U.S. and eventually become eligible for citizenship. What could have been an effective photo-op for Walker, instead has become embroiled in the latest flap over his views on one of top issues for the Republican base.
There's no question Walker's position on the issue has evolved over the years. To his credit, he's admitted as much, saying in a Fox News Sunday interview earlier this month that his "view has changed."
But Walker's imprecision and the subtle-yet-important distinctions between "amnesty," citizenship and legalization have left a muddled mess that's damaging Walker's standing as an early front-runner among prospective 2016 Republican presidential candidates, along with former Florida Governor Jeb Bush. It fits with a storyline Walker rivals have pushed that he's an opportunistic politician who has softened his position on ethanol when in Iowa and abortion when facing a re-election race in 2014. 
Walker's political aides have called the story "false," while saying their boss has been "very clear" about "not supporting amnesty" and not supporting "citizenship for illegal immigrants." They have not responded to any additional questions, or said whether a recording was made of just exactly what Walker said at the dinner.
On Saturday, speaking to the media alongside Abbott in Houston, Walker reportedly denied the Journal story himself.
Undocumented immigrants "ultimately need to go to the country of origin and then get in line just like anybody else would," Walker said, according to the Texas Tribune. "The bottom line is what I've said just now, is what I've said repeatedly, whether it's in New Hampshire or anywhere else, and that is I don't believe in amnesty in the sense of citizenship."
Here is a look back at Walker's past statements and actions on the immigration issue:
2006: The Democratic-leaning Milwaukee County Board of Supervisors sent Walker, then county executive, a resolution embracing the McCain-Kennedy immigration bill. He signed it. The resolution signaled support for increased border security and a temporary visa program, while calling for a path to citizenship.
February 2012: In an interview with Bloomberg Television's Political Capital with Al Hunt, Walker seemed to call for a path to citizenship when asked about the risk of Republicans being viewed as the anti-immigrant party: "What drew me in were people like President Reagan and others. We're the party about living the American dream," he said. "Now, I think that means there are rules and there are standards, and certainly saying there should be a legitimate way for people to gain access to citizenship in America is right, and I don't think you can disregard that."
July 2013: In the interview with the Wausau Daily Herald, Walker was asked whether he can envision a policy where undocumented workers could get citizenship, if there were penalties and waiting periods to meet the requirements. "Sure," Walker said. "Yeah. I mean, I think it makes sense."
March 2015: In an interview earlier this month with Fox News Sunday, Walker said he'd changed his mind on what many conservatives deem "amnesty" since the Wausau Daily Herald editorial board interview. "I don't believe in amnesty, and part of the reason why I've made that a firm position is I look at the way this president has mishandled that issue," he said. "I think the better approach is to enforce the laws and to give employers, job creator s the tools like e-verify and other things to make sure the law is being upheld going forward."