China Casts 'Sky Net' in New Hunt for Corrupt Fugitive Officials
Ting Shi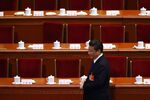 China will widen its hunt for corrupt officials who have fled overseas with a new campaign that extends to more government agencies and the central bank.
The "Sky Net" operation, starting next month, will focus on capturing fugitive officials, cracking down on underground banks, and confiscating misappropriated assets, according to a statement posted Thursday on the website of the Communist Party's top anti-graft agency.
The drive will involve at least four key central agencies: the People's Bank of China, the party's organizational department, the country's top prosecuting body, and the Ministry of Public Security.
Tracking down economic fugitives and bringing them, and their ill-gotten assets back, has become a key component of President Xi Jinping's anti-corruption campaign. Xi's crackdown on graft -- the harshest since the republic's founding in October 1949, state media say -- started weeks after he became party boss in November 2012. The campaign has snared more than 100,000 cadres, according to Central Commission for Discipline Inspection figures released in December.
The government has "declared an all-out war against corruption on the overseas battlefield," Wang Yukai, a governance professor at the Beijing-based Chinese Academy of Governance, was quoted by China News Service as saying Thursday.
Under "Operation Fox Hunt," a total of 680 fugitives suspected of economic crimes were repatriated to China in the second half of last year, according to the official Xinhua News Agency. Fox Hunt will be folded into the new initiative.
More coordinated efforts are needed to "ensure corrupt officials are brought home to face justice," Huang Shuxian, deputy head of the CCDI, said in the statement.
The public security ministry will focus on seizing fugitives, while the PBOC will work with the ministry on crimes involving overseas money transfers.
Sky Net aims to block the "last route of retreat" for corrupt officials, according to the CCDI statement.
Before it's here, it's on the Bloomberg Terminal.
LEARN MORE