Bombardier Resets CSeries Debut to 2016 as Timeline Slips
Frederic Tomesco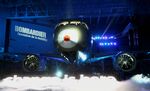 Bombardier Inc. delayed the delivery of the struggling CSeries jetliner again, targeting 2016 for the plane's commercial debut after previously predicting that its flagship model would be in service by the end of this year.
Canadian certification of the plane should come in late 2015, Chief Executive Officer Alain Bellemare said Friday. He said that will set the stage for a handover next year to the first customer, which Bombardier hasn't identified, while asserting that there had been no change in the timetable.
"We have an entry into service schedule for our clients, and this schedule is in fact in 2016," Bellemare, who became CEO last month, said after a shareholder meeting in Montreal. "Before I arrived, it was already scheduled like that."
Still, the timeline is a retreat from longstanding comments targeting the end of this year for an initial delivery that Bombardier once set for 2013. In a Sept. 7 news release, after test flights resumed following a three-month halt due to an engine fire, the company said entry into service "remains on track for the second half of 2015."
Bombardier has been shifting its language in recent weeks to show 2015 as a target for certification, not delivery, as analysts speculated that the smaller CS100 model wouldn't make it to market this year. As Bombardier tries to move beyond its signature regional jets and compete with the smallest Boeing Co. and Airbus Group NV models, CSeries development costs have ballooned to $5.4 billion, at least $2 billion over budget.
'Significant Progress'
Bellemare's predecessor, Pierre Beaudoin, was asked in January by an analyst on a conference call whether the late-2015 timetable remained in effect. He answered "yes," and then went on to say that Bombardier was "making significant progress to be able to certify in the second half of 2015."
"With certification of the program planned for the end of 2015, you don't do a delivery before the start of the next year anyway," Bellemare said Friday.
Bombardier shares declined 0.4 percent to C$2.50 at the close of trading in Toronto. They have fallen 40 percent this year, compared with a 0.3 percent gain for the S&P/TSX Industrials Index.
Bombardier is more than halfway through a 2,400-flight hour test program for the CSeries, and the plane's performance is "really very good," Bellemare said Friday.
The Montreal-based company has said the CSeries, which features a new geared turbofan engine from United Technologies Corp.'s Pratt & Whitney unit, will cost about 15 percent less to operate, cut fuel consumption about 20 percent and produce less noise than competing jets from Boeing and Airbus.
'Strategic Options'
"When you are building a plane that will be in service for 25 or 30 years, the most important thing is whether your plane is performing, and whether you are meeting your operating cost goals for operators," Bellemare said. "Right now, we're in a good situation."
Bellemare spoke to reporters after shareholders approved a C$1.1 billion ($875 million) equity issue that the company announced last month. Together with a $2.25 billion debt sale, the transaction will give Bombardier "the financial capacity to complete our projects," the CEO said.
Now that the financing is done, Bombardier is "looking at all sorts of strategic options" for its aerospace and trainmaking units, Bellemare said. Possibilities could include strategic alliances, partnerships, joint ventures and asset sales, according to the CEO.
Before it's here, it's on the Bloomberg Terminal.
LEARN MORE