business
Nokia-Fueled Boom Years Leave Finns With Stagnant Pay
Raine Tiessalo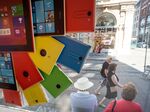 The hangover from Nokia Oyj's decline will be felt for years by Finnish workers.
Pay increases are on hold after a wage boom during Nokia's glory days opened up a salary gap of about 20 percent with the country's main trading partners, Sweden and Germany.
"We need to bridge the cost gap with our competition," said Jyri Hakamies, who heads the Confederation of Finnish Industries, the main business group. "That will take years. At the same time, labor agreements must be made more flexible and productivity must improve to kick-start economic growth and create jobs."
Finland's economy has fallen behind its Nordic neighbors and euro peers, in what Prime Minister Alexander Stubb has called a "lost decade." Gross domestic product remains below the 2008 level as benchmark industries such has papermaking and the electronics industry led by Nokia succumbed to competition. Unemployment, seasonally adjusted, rose to 9.2 percent in February, the highest in more than a decade.
Moderate Gains
Employers and labor unions agree that the low pay increases agreed on in 2013 should continue until the second half of 2016.
Stubb has also called for "extremely moderate" gains, which is also backed by the Center Party's Juha Sipila, the leading contender to become premier after elections next month. Social Democratic leader and Finance Minister Antti Rinne -- a former union leader who helped negotiate the 2007 pay increases -- has ruled out lowering pay while also saying that the country now can't afford higher labor costs.
"Trade unions are well aware that no big wage gains are coming," said Lauri Lyly, president of the Central Organization of Finnish Trade Unions, or SAK. Employers should take their responsibility for Finland's declining competitiveness, he said.
"Investments have remained lower than depreciations and that has damaged production," he said in a phone interview. "Now we must survive in global competition with a weakened production apparatus."
In 2007, the export-led technology industry was the first to hammer out a wage deal -- 8.5 percent increases over two years. That led to an upward spiral where other industries and the public sector vied for even higher compensation.
Unit labor costs have been growing for more than a decade, according to the ETLA research institute. They diverged from levels seen in Sweden and Germany in 2007, just as the struggles of Nokia and the paper industry intensified and exports slumped.
Stagnant wages mean households will tighten spending again in 2015, proving little stimulus for the struggling economy. The cocktail of low wage increases and higher taxes has meant workers are left with less, Hakamies said.
"Even if growth exceeds expectations in Europe, Finland is not in shape and can't grasp onto that growth but change is possible and in the Finns' own hands," he said.
(To be sent this Nordic Credit column, click here. For more credit market news, TOP CM.)
Before it's here, it's on the Bloomberg Terminal.
LEARN MORE