politics
Mike Pence Signs 'Religious Freedom' Bill, and the Indiana Boycott Begins
Sales Force became the first major U.S. company to announce a travel boycott to the state.
By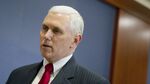 The boycott is on. 
Within hours of signing the so-called "Religious Freedom Bill" into law in Indiana, Governor Mike Pence learned that there would be a price to pay for enacting what critics say is a brazenly anti-gay piece of legislation. Salesforce CEO Marc Benioff announced that the the San Francisco-based company would cancel all travel to Indiana, effective immediately.  
The law allows businesses the right to refuse serving gays and lesbians on religious grounds, and former Star Trek actor and gay rights activist George Takei helped lead the charge to boycott the state should Pence sign the bill.
"To the governor and to the legislators in Indiana who support this backward-looking and divisive bill, I say to you this: If it goes into effect, Indiana will be marked as a state where certain people are not welcome, and so we will not visit," Takei wrote Tuesday on Facebook. "And we will not attend events, including GenCon, the world's largest gaming convention, held in Indianapolis each year."
>> VOTE NOW: The Bloomberg Politics Tournament of Presidential Non-Candidates
The organizers of GenCon, which attracts close to 60,000 people to its annual convention in Indianapolis, had threatened in a letter to relocate their event to a different state if the bill was signed into law. As yet they have have made no further comment. 
After Pence's private signing of the law, Takei expressed his frustration to his 1.59 million Twitter followers. 
At a morning news conference, Pence read a statement about his decision to sign the bill. 
"Today I signed the Religious Freedom Restoration Act, because I support the freedom of religion for every Hoosier of every faith," he said in the statement. "The Constitution of the United States and the Indiana Constitution both provide strong recognition of the freedom of religion but today, many people of faith feel their religious liberty is under attack by government action."
Civil rights groups quickly fired back. 
"We are deeply disappointed that the governor and state lawmakers have been tone-deaf to the cries of legions of Hoosiers—including businesses, convention leaders, faith communities and more than 10,000 people who signed petitions against the bill—who say they don't want this harmful legislation to impair the reputation of our state and harm our ability to attract the best and brightest to Indiana,"  Jane Henegar, executive director of the American Civil Liberties Union of Indiana, said in a statement. 
The NCAA, which will hold next week's Final Four of the men's college basketball tournament in Indianapolis, also expressed its misgivings.
"The NCAA national office and our members are deeply committed to providing an inclusive environment for all our events," NCAA President Mark Emmert said in a press release. "We are especially concerned about how this legislation could affect our student-athletes and employees. We will work diligently to assure student-athletes competing in, and visitors attending, next week's Men's Final Four in Indianapolis are not impacted negatively by this bill. Moving forward, we intend to closely examine the implications of this bill and how it might affect future events as well as our workforce."
How far the boycott will extend remains to be seen. Max Levchin, the CEO of HVF (Hard Valuable Fun) and a founder of companies such as Slide and PayPal, seemed supportive of the boycott's goals, if not ready to join the boycott. 
Before it's here, it's on the Bloomberg Terminal.
LEARN MORE