Smaller Percentage of Americans Worry About Global Warming Now Than in 1989
A new poll finds that while most Americans believe climate change is real and caused by man, fewer are concerned about it than were 26 years ago.
By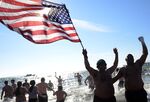 What, America worry? 
Despite decades worth of news reports detailing scientific studies warning that the earth's temperatures are rising due to increased carbon dioxide in the atmosphere, a smaller percentage of Americans say they worry a "great deal or a fair amount" about climate change than in 1989, a new Gallup poll finds. 
While 63 percent of those surveyed 26 years ago said that they worried a great deal or a fair amount about global warming, just 55 percent did so this year. Nearly two-thirds (62 percent) of those polled said that they did not believe that global warming would pose a serious threat to their way of life during their lifetime, while 37 percent said it would.
One key factor in the wayAmerican attitudes are shaped on climate change may be to blame for the downward trend. 
Forty-two percent of those surveyed said that the news media "generally exaggerated" the seriousness of global warming, compared to 21 percent who said they thought the media portrayed the threat correctly. Thirty-five percent who said the media underestimated the threat. 
Still, unlike Republican senators such as Ted Cruz and James Inhofe, 55 percent of those surveyed said that they believed the increases in the Earth's temperatures were due to "human activities," while 41 percent said "natural causes" were to blame. On the other hand, just one year earlier the same poll found a slightly higher percentage (57 percent) of Americans who blamed human activity.