Cleaver Says Failure to Confirm Loretta Lynch Would Show Racism Persists
Toluse Olorunnipa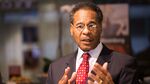 Republicans blocking the confirmation of U.S. attorney general nominee Loretta Lynch risk playing into a theme that their opposition to President Barack Obama is based on race, Representative Emanuel Cleaver said.
A failure to confirm Lynch, who would be the first black woman to hold the post, would offer further evidence that race relations have deteriorated as Republicans in Congress have squared off with the first black president, Cleaver, a Missouri Democrat, said at a meeting with Bloomberg reporters and editors Wednesday in Washington.
"It would be yet another sign that the chasm we thought was narrowing is in fact just as it was before we entered into this new millennium as it relates to issues of race," he said. "For many minorities, Latinos and African Americans, it would be just another contemporary sign that we have not moved as far as we had hoped."
Cleaver's comments add to a growing debate over race in relation to Lynch's confirmation. Democrats and civil rights groups have accused Senate Republicans of racial animus toward Obama and Lynch, the U.S. attorney in Brooklyn, New York. Republicans, including Arizona Senator John McCain, have called such comments inappropriate.
Obama nominated Lynch in November. Senate Majority Leader Mitch McConnell, a Kentucky Republican, has said her confirmation won't come up until senators resolve a partisan fight over a ban on abortion funding in an anti-human-trafficking bill.
Mid-April Vote
The Senate is working on its budget proposal this week and is taking the next two weeks off for a spring recess, meaning Lynch probably won't get a vote before mid-April.
"I continue to hope that we can get past the dilemma that you all witnessed on the trafficking bill" and then vote on the Lynch nomination, McConnell told reporters Tuesday in Washington.
Obama and current Attorney General Eric Holder, who has clashed with Republicans and is staying on the job until his successor is confirmed, have said they don't think race is the Republicans' motivating factor.
Several Republicans, who control the Senate 54-46, have said they oppose Lynch's nomination based on her support of Obama's executive actions to shield millions of undocumented immigrants from deportation.
Cleaver, who took part in the 1960s civil rights movement, said the opposition to Lynch continues a long-running tradition of disrespect for Obama motivated by race.
"I am forced to face the reality that we are not where we thought," he said. "Something is wrong and I feel it and see it and think if the president's A.G. nomination fails, I think for many it will be just another sign."