business
Amgen's Icelandic DNA Quest
Michelle Fay Cortez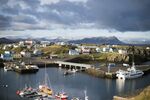 Researchers now know more about the DNA of Icelanders than any other nation on earth. To find new drugs and understand human evolution, scientists at Amgen Inc.'s DeCode Genetics have sequenced the genomes of more than 1 in every 100 people in the country.
The company's Nordic quest follows a theory that mutant genes may unlock the secrets of future medicine by finding rare human outliers whose DNA protects them against ailments that others suffer. It's a strategy that's already yielded one future blockbuster, and the company says wide-scale genome sequencing will produce many more drug targets.
The approach is already paying off, said Kari Stefansson, chief executive officer of DeCode and the senior author of four papers published Wednesday in Nature Genetics. Researchers found genetic variations that increase the risks of Alzheimer's disease, liver and thyroid ailments and an erratic, potentially deadly heart rate known as atrial fibrillation.
Amgen, the Thousand Oaks, California-based biotechnology company, paid $415 million for Reykjavik, Iceland-based DeCode two years ago. Now it's vetting its research projects against DeCode's database to make sure its medications are hitting the right targets, said Stefansson, an Icelander himself. Amgen has abandoned programs and accelerated others based on the findings, he said in a telephone interview, without elaborating.
"Our organization is a source of answers to complicated questions about the cause of disease," he said. "The next big initiative in health care in the western parts of the world is going to come through the use of genetics. You can basically trace all human diversity, the risk of disease and the response to treatment."
Altered Genes
In DeCode's studies, scientists sequenced the genomes of 2,636 Icelanders and identified more than 20 million genetic variants. They found one altered version of the gene ABCB4 to have significant ties to the risk of developing liver disease. Another gene, ABCA7, had mutations that were associated with an increased risk of Alzheimer's disease. Six of the eight ABCA7 mutations detected in the research were also present in other populations with European ancestry, including the U.S.
The researchers were able to reach their conclusions because Iceland's population of about 324,000 has relatively little genetic variation compared with more diverse countries like the U.S. The company has now sequenced more than 10,000 Icelandic genomes.
DeCode's research reflects the rise of genetic testing for clinical trial design at drugmakers including Amgen, Roche Holding AG, Bristol-Myers Squibb Co. and Merck & Co., said Asthika Goonewardene, a Bloomberg Intelligence analyst.
Genetic Explorations
Countries including the U.S. and the U.K. are conducting their own genetic explorations, which go beyond a "molecular national selfie" to give scientists data they can use for drug development, Stefansson said. Companies like 23andMe Inc., already one of the world's largest repositories of genetic data, are trying to turn their data sets into new medicine.
"In addition to the clues into what makes us human, the data generated by combining the genetic information and the medical information for an entire nation are already showing remarkable insights into medical biology, with strong implications for clinical translation," said Nature Genetics Chief Editor Myles Axton.
Technological Advances
The papers published Wednesday show how the study of genetics is changing, said Abraham A. Palmer, associate professor of human genetics at the University of Chicago. Researchers previously looked for the most common human genetic variants and how they affect disease. With technological advances that allow the entire genome to be sequenced for $1,000 or less, the hunt is on for rare variants that may have an even bigger impact, he said.
Amgen is betting the result will be more medicine like Repatha, a cholesterol-lowering injection that's one of its most promising drugs in development. The treatment targets an enzyme produced by the PCSK9 gene that makes it hard to clear cholesterol from the body.
That target was discovered in a relatively old-fashioned way by academic researchers, who gathered DNA from people with low cholesterol, eventually finding an aerobics instructor who had no PCSK9 protein in her bloodstream. Drugs by Amgen and others, based on the gene's mutation, are projected by analysts to sell billions of dollars a year.
Scouring genetics databases from the top down, rather than from the bottom up, will produce such discoveries much more often, Stefansson said.
"I'm 100 percent sure that we will find more protective mutations," he said. "I'm absolutely convinced these protective mutations are going to be important when it comes to pointing us toward good drug targets."
Before it's here, it's on the Bloomberg Terminal.
LEARN MORE