16 Years After Scuttled Run, John Kasich Returns to New Hampshire
As governor of Ohio, he's touting his fiscal record but not making a commitment yet for 2016.
By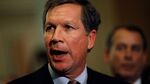 MANCHESTER, N.H.–To hear John Kasich tell it, the last time he was in New Hampshire running for president, he was too young and inexperienced. Sixteen years later, Ohio's Republican governor says he's just a regular guy with a big job.
Kasich is on a swing through the U.S. Northeast, saying that what he learned as a congressman, governor and investment banker has given him lessons on addressing the biggest national challenges as he considers whether to try for the White House. Seasoned after his failed 1999 bid, Kasich is testing how his pitch of fiscal prudence and compassion for the needy–sometimes delivered in a brash, off-the-cuff manner–plays in an era of poll-tested messaging.
"You know the interesting thing about politics?" Kasich asked the crowd Tuesday at a breakfast at Saint Anselm College near Manchester. "If you're having fun, people don't like it. You know why I'm unorthodox? Because I'm normal."
Kasich, 62, told reporters at the popular stop for would-be candidates that he hasn't decided about running and doesn't know when he will. While all options are open, "I would not get in this if I didn't think I could win," he said.
In the meantime, he's advocating a constitutional amendment requiring a balanced federal budget and touting "Ohio's comeback model." Unlike his travels earlier this year to nine states, where he met with lawmakers about the amendment, Kasich's trips these days feature campaign-style events.
On Wednesday, Kasich is scheduled to meet potential donors and speak at a tax-policy dinner Wednesday at New York's 21 Club before heading to Maine for an amendment event Thursday. In April, he returns to South Carolina, an early primary state, and visits the Detroit Economic Club, which former Florida Governor Jeb Bush, another potential Republican presidential contender, addressed in February.
Saint Anselm's "Politics and Eggs" sessions have also drawn 2016 candidate Ted Cruz and possible contenders Texas Governor Rick Perry and Florida Senator Marco Rubio.  At Kasich's visit Tuesday, he spoke about his record as chairman of the House Budget Committee in the 1990s, the last time the federal budget was balanced.
Kasich's 1999 presidential campaign lasted about five months before he dropped out and endorsed George W. Bush, Jeb's brother. Kasich said at the time that while the response from voters was encouraging, they told him it wasn't his time.
Kasich then worked as a Fox television host and managing director of Lehman Brothers Holdings Inc. until the firm collapsed in 2008.
The governor also outlined his tenure in the Ohio statehouse during his speech, erasing a deficit of about $8 billion while cutting taxes, restructuring agencies and helping the mentally ill, drug-addicted and others "in the shadows." He complained about divisions he said hurt the country.
"You think America's strong when all we do is fight with one another?" Kasich asked. "America's strong when we're together."
In a response to a question by former New Hampshire congressman Richard Swett, a Democrat who served with Kasich, the governor said he wouldn't apologize for a style that he said some detractors consider undisciplined and unfocused.
"You get a short view with me or a short time with me and you might go, 'Wow, what the heck do we have here?'" Kasich said. "Well, I'm an energetic guy, and I'm not going to change it."
Asked by a reporter what he learned from his presidential run, Kasich said he was too young and inexperienced at the time.
Swett said in an interview that while Kasich was "always a straight-shooter" who didn't hold grudges, he was brash and "pretty full of himself" in his younger years.
"I think he's matured a lot," Swett said. "In many respects, he is normal and Washington D.C. is not."
After touring Nashua Community College and chatting with students about engines and 3-D printers, a reporter asked how he would distinguish himself among the large Republican field.
"You ever play golf?" asked Kasich, who has played with President Barack Obama. "Play your game. Get a good score, it works. I don't ever look at what anybody else is doing. I find that when I do, my game gets worse.
''I'm an unorthodox politician because I'm an ordinary person in big job."
If he ran, Kasich would compete among so-called establishment Republicans such as Bush and New Jersey Governor Chris Christie, and conservatives including Wisconsin Governor Scott Walker.
Cruz declared his candidacy Monday, and, while others have formed committees and are meeting with donors and campaign staff, Kasich has been noncommittal. The approach lets him stay out of the fray unless a path to the nomination becomes clear.
Karen Johnson, who led Kasich's 1999 campaign, said that times and the party are different now.
"Someone like John can completely catch on fire," said Johnson, now president of 2KConsulting, a Washington-based lobbying firm.
In 1999, Kasich was effective in both large events and living rooms because he had a message and record that resonated, Johnson said.  That record is stronger after a term as governor and winning re-election last year with 64 percent in a state that voted for Obama twice, she added.
 Johnson said one of the things she remembers most from Kasich's failed 1999 bid was a "farewell tour" of New Hampshire and Iowa to thank supporters.
 "It was really bittersweet, because you go into these thinking that lightning is going to strike," Johnson said.
 "When we spoke to people in Iowa and New Hampshire, one thing that was reinforced was that there might be another time for him."