Top DHS Official Aided McAuliffe, Reid Projects, Watchdog Finds
Alan Katz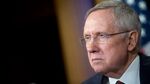 A top Homeland Security Department official intervened to help projects backed by Virginia Governor Terry McAuliffe and Senator Harry Reid in a program aimed at attracting foreign investments in exchange for U.S. residency, the agency's internal watchdog said.
Deputy Homeland Security Secretary Alejandro Mayorkas created "an appearance of favoritism and special access" when he helped the two Democrats' projects in their bids to become officially designated centers that draw investments from people seeking visas through the EB-5 visa program, the DHS Inspector General John Roth said in a report Tuesday, citing witnesses.
Mayorkas also helped a project backed by former Pennsylvania Governor Ed Rendell, according to the report. In each of the three cases, staff decisions not to grant the requests were reversed, Roth said.
The EB-5 visa program grants U.S. residency in exchange for $500,000 investments that create at least 10 jobs. It has been scrutinized by federal agencies in recent years for potential security risks and investment fraud.
The U.S. Securities and Exchange Commission halted an alleged $158 million fraud in 2013 in which a Chicago man duped almost 300 investors into believing that they would win visas by backing his project to build a hotel. The project never came to fruition and the promoter was indicted last year.
The DHS Inspector General's investigation, which stemmed from a 2012 whistle-blower complaint, involved interviews with more than 15 people who were in a position to witness events, according to the report.
'Special Access'
"Their allegations were unequivocal: Mr. Mayorkas gave special access and treatment to certain individuals and parties," Roth said in the report. "They told us he created special processes and revised existing policies in the EB-5 program to accommodate specific parties."
Mayorkas was director of the U.S. Citizenship and Immigration Services, which oversees the program, until 2013.
"I had the responsibility to ensure that cases, including the three that are the focus of the report, were decided as the law required and that agency errors were corrected," Mayorkas said in a statement on the department's website in response to the report. "The EB-5 program was badly broken when I arrived at USCIS. There was erroneous decision-making and insufficient security vetting of cases. I could not and did not turn my back on my responsibility to address those grave problems."
The program, more than two decades old, has also been criticized for failing to create jobs. In a 2014 report, Roth found that administrators were unable to show that the EB-5 program was boosting the U.S. economy.
'Right Thing'
Mayorkas "works hard to do the right thing, and never acts, in my observation, for reasons of personal advancement or aggrandizement," Homeland Security Secretary Jeh Johnson said in a statement. He added that he had asked his department's general counsel and the USCIS to develop a new protocol for the EB-5 program to ensure that it be "free from the reality or perception of improper outside influence."
The EB-5 program was signed into law in 1990. Over the next two decades, Congress tweaked the program several times, generally with an aim of making easier to get the visa.
The number of EB-5 visas issued by the U.S. has soared recently. The USCIS gave out 10,692 of the residency permits in fiscal 2014, according to the State Department. That was a 25 percent increase from a year earlier and was more than 10 times the number issued in 2007. Chinese investors accounted for more than 85 percent of the EB-5 visas issued last year.