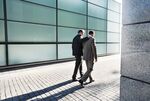 It's always so sweet in the beginning: You meet a financial adviser and hit it off. You smile at the same things—he thinks energy stocks are undervalued, too! He's great on the phone, and it's like he just gets you … and your thoughts about prudent allocation to fixed income.
But you start to notice things. Your adviser always wants to go with pricey funds, never the cheaper ones you suggest. Then you find out: He's been charging fees 10 times higher than you could pay elsewhere. You dump him.
These are rocky times for the adviser-client relationship. The Internet makes it easy to know your options, from passive index fund giants to startups that dispense advice by algorithm. Meanwhile, Wall Street is fighting an Obama administration proposal that would require advisers to put clients' interests first. The debate raises justifiable suspicions that some advisers are motivated more by commissions than by clients' financial happiness. If you're thinking of ending a dysfunctional, costly relationship, here are four suggestions.
1. Go ahead and snoop
Brandon Smith, 36, who works at a credit union in Casper, Wyo., kept telling his adviser he preferred low-cost investments. But he never got a clear answer on how much he paid in fees. He logged on to Financial Guard, a site that analyzes holdings, and found out: a huge 2.16 percent. "I don't think he was listening," Smith says. "Maybe his own interests superseded mine." Smith fired him and moved to funds charging only 0.22 percent.
2. Keep it professional
Tyler Clayton's financial adviser was a college friend. So it was awkward when the Columbus, Ohio, resident, 29, decided he wanted direct control of his money. His adviser just didn't seem to be adding much. When Clayton called to end things, "he told me it was a big mistake, that he was working for me"—but didn't muster any evidence Clayton found convincing. "I tried to keep it brief," he says
3. Be ready for pushback
Pulling your assets from an adviser hurts more than his pride—it hurts his bottom line. Sometimes resistance is good: If a client wants to gamble it all on Bitcoin, the adviser has a duty to try to talk him out of it. But if a client simply prefers a passive index fund, the adviser shouldn't object too loudly. "There's a fine line between helping educate a client and scaring someone," says Patrick Clark, an adviser at online investment firm FutureAdvisor.
4. Feel free to be a coward
A phone call or e-mail may be common courtesy when ending the relationship, but it's not necessary. "You don't have to tell them what you're doing and why," says Sheryl Garrett of the Garrett Planning Network. Simply fill out a form with your new, low-cost asset manager to have money transferred automatically from your old firm.
Before it's here, it's on the Bloomberg Terminal.
LEARN MORE