Photographer: David Paul Morris
Here's Why The Apple Watch Won't Free You From Your iPhone
Smartwatches will just take information overload to the next level
by
In describing the appeal of the Apple Watch, Apple Chief Executive Officer Tim Cook has focused on the word "personal." Having a screen strapped to your wrist creates a relationship of unprecedented intimacy with your favorite tech company—all while allowing you to get on with your life. Some who agree contend that bringing Apple closer will put an end to the iPhone's information overload and antisocial tendencies. They're wrong. 
TechCrunch co-Editor Matthew Panzarino laid out the utopian smartwatch scenario in an article published earlier this month entitled: "The Apple Watch Is Time, Saved." People who have been testing the watch, he wrote, have been able to conduct an increasing amount of their technological business directly from their wrists, allowing them to avoid "pulling out an iPhone, unlocking it and being pulled into its merciless vortex of attention suck." The Apple Watch doesn't just keep track of time, it literally creates it!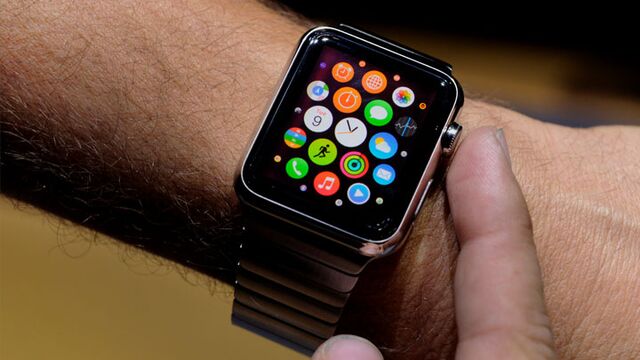 In 2013, tech writer Farhad Manjoo described smartwatches as "the best solution to a coming global social catastrophe." (That is, everyone staring at their phones in public.) "If everyone had a smartwatch, the world would be a much better place," he wrote. "We'd all be constantly glancing at our wrists, but that'd be an improvement over the mess we're in today." At the time, Manjoo was reviewing the Pebble watch, which he said didn't work well enough to liberate people from their phones. He has been more optimistic that the Apple Watch will get us there. 
But Apple wants its smartwatch to be much more than just an expensive smartphone accessory. The company wants customers to use it to pay for groceries, read the news, check into hotels, and send "hand-written" messages they scribble on their wrist-based screens. If the Apple Watch turns into a device primarily used to subtly glance at phone notifications, it will have failed. 
Think of our devices as roads for information. The transition from desktops to smartphones was like the transition from two-lane roads to highways. Adding a smartwatch is like adding a lane. There was a time when transportation planners thought that the way to ease traffic congestion was to build more lanes. It turned out that building wider roads worsens traffic because more people begin driving. 
The Apple Watch is simply a way to push the internet into corners of your life that smartphones can't reach, says Daniel Levitin, a cognitive psychologist and author of the book, The Organized Mind. While it's possible to stay connected to the Internet with your smartphone in almost any situation,"it's that 'almost' gap that Apple has filled now," says Levitin. "That's a big gap."
In the road metaphor, the added cars would be more aggressive apps. "I don't think the Apple Watch will liberate its users very much," says Ronald Rensink, an associate professor of psychology and computer science at the University of British Columbia. "And should it somehow do so, I tend to believe that the manufacturers would start taking advantage of the attention that gets freed up until the level of available attention returns to its old level." 
Even TechCrunch's Panzarino, who praises the time-saving potential of the Apple Watch, says it will give developers greater access to users. App notifications and push messages on the watch go through only when it's being worn, meaning they will always be seen the moment they're sent. "There is that added bit of context because you know exactly when they got it, which means that time-sensitive notifications like those that recommend a precise establishment or ping you during a live event become much more germane," he wrote. "If you're a developer who deals with notifications, you know how powerful that could be." 
It's unlikely that developers will use much restraint when wielding this power, given that their business models rely on grabbing people's attention.  Mark Kawano, who once worked for Apple helping designers maximize the utility of their iPhone apps, says that the best smartwatch apps will be those that help people communicate, using just their watches. "This isn't a way to use technology less," he says. 
Still, not everything the watch does requires users' undivided attention: Mobile payments removes a step from retail transactions, and health tracking will happen largely in the background. But the screen is what counts—and screens are made to be watched. Kawano says the feature he finds most compelling is a messaging app by which the sender doodles a message on a watch and recipients see lines show up on their watches as though they're being drawn in real time. Both these actions require someone to be fixated on their wrist long enough to annoy anyone standing in front of them.
John Edson, president of design firm Lunar, also singled out sketch messaging and says he's looking forward to seeing how our use of technology changes if the Apple Watch catches on. "I'm interested in seeing what these gestures are, what the meaning is of looking at your wrist in this next phase," he says, "and how soon people start staying: 'Stop looking at your wrist! Talk to me!" 
For more, read this QuickTake: An App Up Your Sleeve
Before it's here, it's on the Bloomberg Terminal.
LEARN MORE