Ted Cruz Previews 2016 Bid With Patriotic 30-Second Trailer, and There's a Already a Parody
It begins for the Texas senator.
By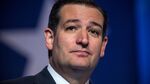 The backchannel conversations with reporters are over; the "one aide confirmed" sourcing on Texas Senator Ted Cruz's plans is no longer necessary. In an interview with Breitbart News Sunday night, Cruz told supporters to watch his Twitter account at midnight. (Eastern time—sorry, Texas.)
At midnight, there it was, a 30-second video of Cruzisms laid over stock video of Americans being American.
"I believe in America and her people, and I believe we can stand up and restore our promise," said Cruz, over video of baseball, churches, the Golden Gate bridge, and a diverse assemblage of smiling people.
The video-to-say-I'm-basically-running is now a mainstay of political campaigns. In 2007, Barack Obama released a fairly staid 3-minute video message restating the themes of his campaign. One camera, one candidate, a "paid for" message from the exploratory committee.
Mitt Romney did the same thing in 2011, reducing the message time to 150 seconds, and shaking up the visuals with a camera that occasionally filmed him in close-up.
None of that jibber-jabber for Cruz. No: The Cruz for President journey starts in movie-trailer land, and its star is seen first as he smiles and waves from a stage where he had just been bathed in ovations. TedCruz.org has already been transmogrified into a presidential campaign site, with rundowns of Cruz's positions on the Constitution, the economy, foreign policy, and "life, marriage & family." (TedCruz.com has been owned by squatters since 2004; currently, it displays dummy text telling site visitors to support immigration reform.)
Cruz had previewed the video on Sunday around 7:50 p.m., in a very brief interview with Breitbart News's weekend Sirius XM show. The senator's camp is bracketing his 10 a.m. announcement Monday (likely closer to 10:20, after some introductions) by doing call-ins and sit-downs with conservative media. The Breitbart interview, in which Cruz did not explicitly admit a presidential bid, went as smoothly as any candidate could ask.
"What is it, for a guy that went to Princeton and Harvard—how does a guy that went to these elite institutions become really the voice of the middle class and working class of this country?" asked host Steve Bannon.
"Well, look, I think the real question is remembering where you came from," said Cruz.
Early Monday morning, Cruz supplemented the trailer with his own 140-second video, a documentary-style look at his family, and recast his losses in Congress as the "historic fight to defund Obamacare" and "putting everything on the line" to defund the executive orders on immigration. (Both of those things still exist, and are funded.)
The long video may be more notable for an early shot that evokes the iconography of Ronald Reagan's campaigns, but adds something Reagan did not have for his runs: Young children.

Also notable: This meeting with a certain foreign leader.

In the time between the short preview and the long video, the Australia-based video parodist Hugh Atkin had already released a cut-up of Cruz "telling the truth" to voters.