Ted Cruz Has Skeptics at Liberty, and They Use Yik Yak
From Yik Yak to Facebook, Cruz skeptics speak out.
By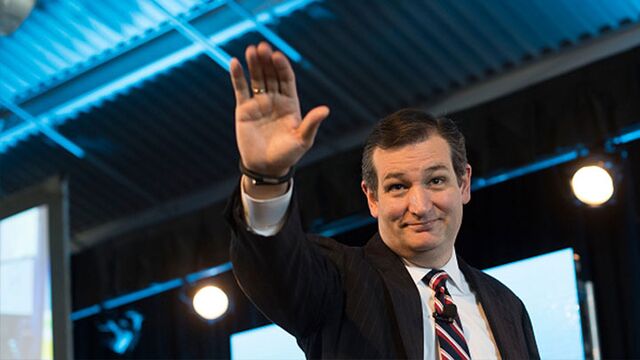 Announcing his presidential bid at Liberty University is giving Ted Cruz something that some candidates dream of: A massive crowd that has to be there. The Texas senator is speaking at the Christian university's convocation, a mandatory event for the school's students, held in the made-for-TV Vines center.
Not everyone enrolled at Liberty University, which says it has more than 13,500 residential students, is thrilled by this. According to an organizer with Young Americans for Liberty, the group started in 2008 by former Texas Representative Ron Paul, around a dozen Liberty undergrads had been ready to start a Students for Rand Paul chapter. They took the Cruz visit as an opportunity to start promoting the cause and signing up their peers.
On Facebook, YAL's Liberty University chapter president Eli McGowan started talking to allies about ways to remain visible at the speech.
"When I'm not 'void of the Holy Spirit' for advocating the freedom to be given any Convocation skips, 'a disobedient rebel' for doing graphic abortion outreach, an anti-Semite for promoting free speech on campus, or horrible obscenities via YikYak for advocating for CSER reform in the SGA, then I'm a disrespectful rabble rouser for wearing a Rand Paul shirt tomorrow," he wrote. "Well dang. I'm glad I got your attention."
In another post, McGowan encouraged other Rand supporters to "set your cover photo and profile picture to something Rand." One of the people he tagged, Jessica Kramer, did so and shared a "point made by a Liberty student."
I strongly object to Senator Cruz's choice of venue for the announcement of his 2016 presidential bid: as is well-known by Liberty University students but considerably less well-known by the general public, all students are required to attend convocation every Monday, Wednesday, and Friday. Sen. Cruz is a friend of the Liberty University administration and has spoken at convocation in the past. As such, he knows that all students are required to be in attendance. I bear no ill will toward Sen. Cruz, but his choice to announce his 2016 presidential bid at convocation at Liberty University is a starkly deceptive one. Should the general public be unaware that all students are required to attend convocation, it would seem to the average viewer (as this will be televised and is already being widely publicized) that 10,000 supporters came to Liberty University to hear Sen. Cruz's announcement. However, every student in attendance has no say in the matter. Students will either attend convocation and lend to the illusion of widespread support for Sen. Cruz, or they will be subject to administrative punishment--specifically, four reprimands and a $10 fine--if they are absent. While Sen. Cruz has every right to run for president and to announce his candidacy, it is a highly deceptive, albeit politically savvy, move on Sen. Cruz's part to make his big announcement here. I do not support this action, and I am not alone in my belief that such deception is wrong.
On Yik Yak, the anonymous gossip app, there was no such organizing. There was a persistent worry that terrorists could attack the college, which is roughly 150 miles from Washington, D.C. at the base of the Blue Ridge Mountains, as well as some jokes ("I'm here so I don't get fined") and meme-driven snark.



Of course, nothing beats some old fashioned IRL trolling. The Students for Rand pulled it off.  
CORRECTION: An earlier version of this story misstated the number of students enrolled at Liberty University. Its residential enrollment is more than 13,500, the university says.