Singapore Enters Week-Long Mourning for Former Leader Lee
Shamim Adam and Sharon Chen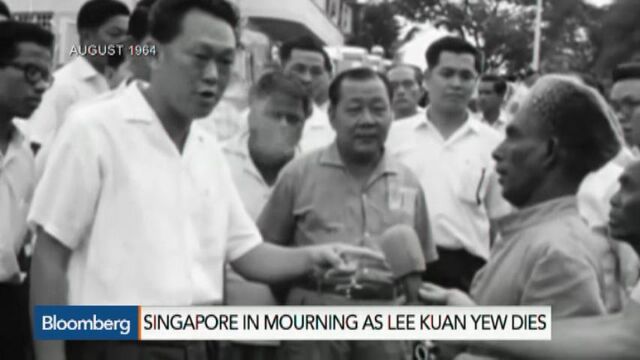 Singapore declared a week-long period of national mourning following the death of Lee Kuan Yew, its first prime minister, as state flags flew at half mast and radio stations broadcast some of his most famous comments.
Lee died at 3:18 a.m. on Monday in Singapore at 91 and his body will lie in state at Parliament House from Wednesday after a private family wake Monday and Tuesday, the Prime Minister's Office said in a statement. The state funeral service on March 29 will be followed by a private cremation ceremony.
Lee, the Cambridge University-trained lawyer who led the nation from 1959 to 1990, crafted a legacy of encouraging foreign investment, averting corruption and emphasizing discipline, efficiency and interracial harmony. His elder son, Lee Hsien Loong, has been prime minister since 2004.
"To many Singaporeans, and indeed others too, Lee Kuan Yew was Singapore," the current prime minister said in a televised address on Monday hours after his father's death. "There won't be another man like him."
Among those who will attend the funeral service are Lee's family, friends and staff, Singapore President Tony Tan, Cabinet ministers, members of Parliament and senior civil servants, the Prime Minister's Office said in a statement.
Lee was hospitalized in the intensive care unit of Singapore General Hospital near the city-state's downtown on Feb. 5 to treat severe pneumonia, where he was sedated and put on mechanical ventilation. He died in the hospital.
Private Wake
The private wake will be held at Sri Temasek, the prime minister's official residence, and where Lee and his wife Kwa Geok Choo once spent time with their three children.
Kwa, who died in 2010, was accorded the honor of making her final voyage on a ceremonial gun carriage to her funeral service. Lee's coffin will be placed on a gun carriage for its journey from Sri Temasek to Parliament House on Wednesday, the traffic police said.
Sri Temasek, a 19th century bungalow, is located within the compounds of Singapore's presidential palace known as the Istana. Crowds gathered outside the entrance of the Istana on Monday as a hearse carrying Lee's body entered the grounds.
"He never distinguished between rich and poor, he treated all equally," said a 73-year-old woman who would only give her name as Ang said as she accompanied her husband to Singapore General Hospital for a heart check. "If I think too much about his passing, I will cry. It's so sad."
Special Session
Singapore's Parliament will convene for a special session on Thursday to pay tribute to Lee. An official Facebook page -- Remembering Lee Kuan Yew -- set up by the Singapore government has garnered more than 125,000 Likes. Thai Prime Minister Prayuth Chan-Ocha postponed his planned visit to the city-state this week.
Mediacorp Pte, which is owned by Temasek Holdings Pte, Singapore's state investment company, said regular television and radio programming will make way for special coverage over the next seven days. The Straits Times, Singapore's most widely read newspaper, changed the masthead on its website to gray.
"I have spent my life, so much of it, building up this country," the younger Lee quoted his father saying toward the end of his life. "There's nothing more that I need to do."
"At the end of the day, what have I got? A successful Singapore. What have I given up? My life."
Before it's here, it's on the Bloomberg Terminal.
LEARN MORE