Kenyan Mines Minister Sees Law Boosting Investment Interest
Ilya Gridneff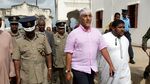 Kenya expects to enact a mining law later this year to provide policy stability in a country ranked by an industry institute as one of the world's least attractive places to invest, Mining Secretary Najib Balala said.
The Mining Bill, currently before the East African nation's Senate, is expected to be passed before the fiscal year ends on June 30 and begin a "new era" for mining in Kenya, Balala said in an interview on March 20 in the capital, Nairobi.
"There have been bad practices before, so we want to change that," Balala said. "This bill is good not only for the government, but also for the industry as it guarantees them stability, it guarantees them their rights. It also brings transparency to the process."
Kenya is overhauling its mining code to increase the share of revenue from an industry that represents only about 1 percent of gross domestic product, partly because poor regulation has deterred investment. Under the new law, the government will impose royalty rates ranging from 1 percent of the gross sales value of industrial minerals such as gypsum and limestone, to 10 percent for coal, titanium ores, niobium and rare-earth elements, and 12 percent for diamonds.
Kenya is the world's third-biggest producer of soda ash, used to make glass, and ranks seventh in output of fluorspar, used in steel, according to the U.S. Geological Survey. It also has deposits of coal, gold, rubies and sapphires. Randgold Resources Ltd., a producer of the metal in Africa, said last year it planned a study of Kenya's gold-mining potential. It doesn't produce any diamonds.
Investor Attitudes
The country ranked third from bottom on the Investment Attractiveness index published in the Vancouver, Canada-based Fraser Institute's annual survey of mining companies last month.
The report assesses what impact mineral endowments and policies such as taxation and regulatory uncertainty have on exploration investment. It cited a lack of transparency in Kenya's mineral-title process and "terror threats" as factors behind the ranking, which only beat Malaysia and Hungary. Balala said he was "surprised" by the results of the survey.
"Maybe it is a lesson for us to improve," Balala said. The government has taken steps to improve security, he said, after "terrorist attacks" in Kenya killed at least 361 people since September 2013, according to Bath, U.K.-based risk consultancy Verisk Maplecroft.
Shortly after his appointment in 2013, Balala canceled 43 prospecting and mining licenses after saying the government discovered irregularities in the way they were granted.
Royalties Dispute
Cortec Kenya Mining Ltd., a subsidiary of Kelowna, Canada-based Pacific Wildcat Resources Corp., lost its case in the Kenyan High Court in which it accused Balala of illegally revoking its permit. Cortec is appealing the ruling.
Kenya improved the transparency of its licensing system in February with the introduction of an online register to obtain and process permits, Balala said.
"The online system is a major relief on a personal basis," he said. "I don't have to be disturbed if someone wants a license."
The government is also "achieving some progress" in a continuing dispute with Base Titanium, the Kenyan unit of West Perth, Australia-based Base Resources Ltd., over royalty payments. The government wants to increase the amount that Base pays from the 2.5 percent the company says was "locked in" in a previous agreement with the state.
'Progressive Law'
"We are in agreement in principle that they are willing to pay a 5 percent royalty," Balala said. "According to the world, 5 percent is the right figure. So if they want to pay 2.5 percent it's not fair."
Base Titanium spokesman Simon Wall, in an e-mailed response to questions, confirmed the talks with the government "for an increase of this agreed rate to reflect current global mineral sand royalty rates, with 3.5 percent being the average and 5 percent the highest."
Kenya's "progressive" mining law will provide clarity on how revenue from royalty payments will be disbursed, Balala said. Communities where mining operations are based will receive 10 percent of the income, while 20 percent will go to county governments and 70 percent to the national government.
"I think some of these companies need to appreciate there is a new era," Balala said. "They need to appreciate the resources need to be shared by the people."
The government will split its royalty revenue between a sovereign wealth fund and an infrastructure development fund, Balala said.
Before it's here, it's on the Bloomberg Terminal.
LEARN MORE