How Many Reprimands Did Ted Cruz Rack Up at Liberty University?
Parts of his appearance didn't totally jibe with the Liberty Way.
By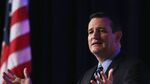 If Ted Cruz were a Liberty University student, he might be in hot water right now. 
The Christian college in Virginia where the Texas senator on Monday kicked off his presidential campaign operates under a strict honor code called the Liberty Way. It forbids R-rated movies and dancing, among other things. Students who violate the rules get a certain number of "reprimands and are fined varying amounts."  
Also banned in the Liberty Way is kissing, according to Kevin Roose, a Fusion reporter who made a name for himself by writing a book based on his fish-out-of-water experience experience there as a student.
On Monday, Roose tweeted a picture of Cruz kissing his wife during a dry run for Monday's speech, pointing out that the kiss was in violation of the Liberty Way, or at least would have been when Roose was enrolled.
Later, he e-mailed Bloomberg Politics to say that the kiss would have likely been a four-reprimand offense. Even though they are married, Roose added, the Cruzes would still have been required to abide by the Liberty Way while on campus.  
Cruz also locked lips with his wife, Heidi, after the actual speech, drawing attention on the anonymous posting app Yik Yak.