Rebel Fighters Advance Into Yemen's Third-Largest City
Mohammed Hatem and Sangwon Yoon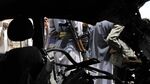 Shiite rebels seized Yemen's third-largest city and their leader called for volunteers and money for a widening offensive, as the United Nations urged a halt to the country's slide toward civil war.
Soldiers loyal to the Shiite Houthis and former President Ali Abdullah Saleh seized the airport in Taiz and set up checkpoints in the city as protests against their presence erupted there, Salah Noman, a resident, said by phone. The U.S. evacuated all remaining personnel in the country, State Department spokesman Jeff Rathke said in an e-mailed statement.
Rebel leader Abdulmalik al-Houthi, in a televised address on Sunday, accused the country's internationally recognized leader, President Abdurabuh Mansur Hadi, of collaborating with Sunni militants from al-Qaeda and Islamic State, and being a "puppet" for foreign forces. He urged Yemen's tribes to send fighters and money to support the Houthis.
The escalation of violence threatens to split a country that only reunified in 1990 after decades of division, and draw in neighbors such as Saudi Arabia, the world's biggest oil exporter and Hadi's main backer. The erosion of government authority has already allowed al-Qaeda to take root in Yemen and use it as a base for attacks.
'Protracted Conflict'
"If it does turn into a civil war, then we're in for a long, protracted conflict," Sultan Barakat, director of research at the Brookings Doha Center, said by phone.
The Houthis declared a state of general mobilization on Saturday, ordering the army to prepare for war against forces loyal to Hadi, who has rallied supporters in the southern port of Aden after fleeing the Houthi-controlled capital Sana'a last month. Yemen's army has divided, with some units on each side of the conflict.
Fighting has spread in the south in recent days, with airstrikes against Hadi's palace in Aden, while about 140 people were killed on Friday in suicide bomb attacks at two mosques in Sana'a. The Houthis have vowed to avenge the attack. Islamic State said it was responsible, though the group hasn't been among the most prominent actors in Yemen.
The Houthis are allied with supporters of former President Ali Abdullah Saleh, who was replaced by Hadi under a Saudi-brokered accord in 2011. Yemen's army has fractured, with units split between the warring sides.
Civil War
The Saudis and their Gulf allies accuse Iran, the region's leading Shiite power, of being behind the rise of the Houthis, who advanced from their base in north Yemen to take control of Sana'a last year.
The UN's envoy to Yemen, Jamal Benomar, told the Security Council in a video link on Sunday that recent events have pushed Yemen "to the edge of civil war," and urged a return to "peaceful dialogue." Benomar had been brokering talks between the parties that collapsed amid the latest violence.
The Security Council reiterated its support for Benomar's efforts, and demanded that "all parties in Yemen cease all armed hostilities against the people and the legitimate authorities." The council said it's ready to take further measures, without identifying them. The U.K. ambassador to the UN, Mark Lyall Grant, said broadening targeted sanctions is one option.
Samantha Power, the U.S. ambassador to the UN, said in an e-mailed statement that the Houthis, working in "close collaboration" with ex-president Saleh, have "consistently undermined Yemen's transition."
In his televised address, rebel leader al-Houthi dismissed the UN mediation efforts.
Special Forces
Rathke, the State Department official, said the U.S. will continue to support a political transition and will actively monitor and take action to disrupt threats emanating from Yemen. About 100 U.S. Special Forces soldiers were leaving Al Anad airbase in Yemen, CNN reported Saturday. The U.S. considers Hadi's government an ally against al-Qaeda.
Houthi leaders named a new defense minister to take charge of their military offensive on Sunday, giving the job to Major General Hussein Khairan, the army chief of staff. Al-Houthi said his forces are ready to fill the country's "government vacuum."
The balance of power between the sides makes it hard for either to win a decisive victory, according to Farea Al-Muslimi, a visiting scholar at the Carnegie Middle East Center.
"There's no one right now that can beat the other," Al-Muslimi said by phone from Sana'a. "It's a very dangerous situation."
Before it's here, it's on the Bloomberg Terminal.
LEARN MORE