Initial Reactions to Ted Cruz for President Are Decidedly Mixed
The Texas senator's decision to run for president has elicited a range of opinions.
By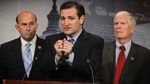 Ted Cruz is a polarizing figure in American politics. So it's no surprise that his pre-announcement of his 2016 presidential campaign was met Sunday with reactions ranging from gushing praise to outright disdain.