Rudy Giuliani Doubles Down on Loretta Lynch Nomination
The former mayor is no fan of the president–but he likes his pick for attorney general.
By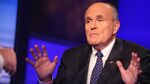 Rudy Giuliani isn't giving up on his push to confirm Loretta Lynch as U.S. attorney general. Days after he sent a letter to Senator Lindsey Graham in support of President Barack Obama's nominee, the former New York mayor held a conference call Friday with reporters and defended Lynch as being "in the highest traditions of a U.S. attorney" and "not a political operative in any sense."