Bank Customers May Get Their Day in Court
The CFPB takes aim at contract clauses that bar class-action suits
By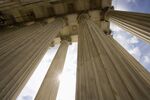 Mandatory arbitration clauses were created by corporate lawyers about 15 years ago and buried in the fine print of credit card contracts and checking account agreements. But they may not live much longer following the March 10 publication of a three-year study by the Consumer Financial Protection Bureau. The 728-page report confirmed what consumer advocacy groups have long argued: Mandatory arbitration doesn't much help customers but does prevent expensive lawsuits against banks. The bureau was required to complete the report under the Dodd-Frank Act prior to issuing new regulations. "Now that our study has been completed, we will consider what next steps are appropriate," said CFPB Director Richard Cordray in a statement.
The clauses require customers to use arbitration, not the courts, to resolve disputes and waive their right to be part of a class-action case. The CFPB could ban them outright in consumer finance contracts or just do away with the class-action waivers.
The report's findings presage a pitched battle between the consumer agency and business groups, notably the U.S. Chamber of Commerce, which views arbitration as a way to thwart avaricious plaintiffs' lawyers. The changes won't happen overnight. The rulemaking process—and the fight with Wall Street—could drag on for years.
The bureau can count on supporters who have successfully fought off efforts to defang it since its creation in 2010. Those include Senator Al Franken. The Minnesota Democrat has for years railed against forced arbitration clauses not only in consumer finance agreements but also in employment, mobile phone, and cable-TV contracts. Restrictions on arbitration "would go a long way toward keeping the big banks in line and toward making sure that justice is available to consumers who get swindled," Franken told reporters on March 11.
Twenty-eight of the 50 largest banks by domestic deposits, including JPMorgan Chase and Wells Fargo, require checking account holders to submit disputes to arbitration, according to a 2012 study by Pew Charitable Trusts. Of the next group of 50 banks, 30 percent do so. Richard Hunt, president of the Consumer Bankers Association, called arbitration "mutually beneficial" to all parties in a March 10 statement.
Deepak Gupta, a lawyer who argued a case challenging arbitration before the Supreme Court in 2011 and later joined the CFPB as an enforcement attorney, says the real reason companies are wedded to arbitration is not that it's fast and cost-effective but that it suppresses claims. Gupta, who's now in private practice, says most customer claims against banks involve small sums of money so people don't bother to seek redress, by arbitration or any other method. And since they're barred from joining class actions, they can't band together to make it worth the lawyers' fees.
In its report, the CFPB noted that there were just 52 arbitration claims under $1,000 in 2010 and 2011, and consumers won relief in just four of them. Says Gupta: "What this report shows is not that claims go to arbitration but that they simply go away."
Alan Kaplinsky, an attorney with Ballard Spahr who helped pioneer the use of arbitration clauses in financial contracts, counters that consumers resolve claims in other ways. They call the company to complain. They go to the Better Business Bureau. "That's why you don't see a heck of a lot of arbitration or litigation when there's a clause," he says.
The CFPB study found that over a five-year period contracts not covered by arbitration resulted in $2.7 billion in class-action settlement payments to more than 160 million people. Kaplinsky says that since the vast majority of class-action cases go nowhere—a fact the CFPB noted in its report—this route to relief is overhyped. About 18 percent of that $2.7 billion went to attorney fees.
Myriam Gilles, a professor at the Benjamin N. Cardozo School of Law, argues that class-action litigation has an important "halo effect." In the report, the CFPB highlights how a wave of class-action suits revealed that banks were manipulating checking account transactions to maximize overdraft fees, a multibillion-dollar revenue source. In 2010 a court awarded $203 million in damages in one prominent case involving Wells Fargo, prompting the bank and many of its rivals to revise their overdraft policies.
Following publication of the CFPB report, the Chamber of Commerce Center for Capital Markets Competitiveness, which represents financial-services companies, issued a statement accusing the CFPB of "trying to protect plaintiffs' lawyers." There's no question trial lawyers were pleased by the study's conclusions: The American Association for Justice, a lobbying group that represents the profession, praised the study for documenting "denied justice to countless victims of Wall Street's unscrupulous behavior."
In congressional hearings last year, Elizabeth Warren, the Harvard law professor who helped set up the bureau and is now a Democratic senator from Massachusetts, pressed CFPB Director Cordray repeatedly to get the study done. It's not new terrain for her. Warren criticized forced arbitration in an article published seven years ago. Banks "can break the law," she wrote, "but if the amounts at stake are small—say, under $50 per customer—few customers would ever bother to sue." In that same article, she proposed the creation of what became the CFPB.
The bottom line: The CFPB could ban mandatory arbitration clauses that discourage consumer claims against banks.
Before it's here, it's on the Bloomberg Terminal.
LEARN MORE