Breaking Up With Sears Is Hard to Do
Hometown owners say a spinoff from Sears has hurt them
by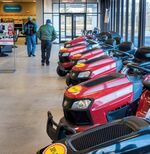 Doug Shumard had semi-retired from running an auto-service business when he decided to buy a Sears Hometown franchise in Lincoln, Ill., in 2008. The $80,000 in startup costs seemed to be a good investment. The Hometown and Outlets division was one of Sears Holdings' most successful when Shumard bought in. The stores, totaling about 1,300 today, are located in smaller towns across the U.S., far from the retailer's regular department stores, and feature Sears brands, including Kenmore appliances and Craftsman tools, as well as clearance merchandise.
But ever since Sears spun off the Hometown division in 2012, Shumard and other owners say their business has gone downhill. They're struggling to stay afloat, they say, after finding some inventory hard to procure and being held responsible for goods never received. They also say the stores are suffering from their connection to the former parent company, which has posted $7.1 billion in losses since 2011.
"Their fate is really intertwined with that of Sears," says Matt McGinley, an analyst at research firm Evercore ISI. "Given that Sears has issues over the long run, does this hurt the franchisees? I think the answer is definitely yes." The spinoff was supposed to give owners more autonomy to run their businesses; the parent company would benefit from the $446.5 million the deal put in its coffers, as well as royalties and service fees. "They did this because they needed liquidity," McGinley says.
Appliances account for most of the sales at Hometown stores. The category grew steadily as the U.S. economy improved after the recession. In 2011, the year before the spinoff, the Hometown operation brought in less than 6 percent of Sears's sales but about 25 percent of the company's profit. Hometown's properties include about 930 Sears Hometown, as well as 85 Sears Hardware, 115 Sears Outlet, and 100 Home Appliance stores.

Sears Holdings, which still owns the Sears and Kmart department stores, supplies about 84 percent of Hometown's merchandise. The two companies share a top stockholder, Edward Lampert, chairman and chief executive officer of Sears Holdings. The spinoff was Lampert's decision, part of a broader breakup that has included sales of some Sears locations and the separation of the Lands' End division last year. Hometown collects merchandise payments from owners and pays them commissions.
Shumard says he fought with Sears Hometown over a lack of inventory and payments. By February 2014, he wanted out and handed ownership over to Hometown. Richard Hansen says the spinoff made running his business in Picayune, Miss., more difficult: "I lost thousands of dollars because I could not get lawn and garden product. I didn't have basic washers and dryers in stock."
The money Hometown pays owners as part of a bonus program for assembling goods themselves wasn't worth it, Hansen says: "I'm spending $15 to $20 to assemble a grill I'm going to make $8 on." Hansen handed his store over to Hometown in 2013 before his contract was up. He tried but failed to find a buyer willing to cover the $60,000 he paid for the store in 2001. Bizbuysell.com, which advertises franchises and other businesses for sale across the country, lists prices on 53 Hometown stores ranging from $4,000 to $850,000. All but seven are asking less than $100,000.
Sears Hometown disputes the owners' claims, saying it's made promised deliveries and that the stores are stocked. "The amount of those inventories has remained largely unchanged for several years," says Jayne Levy, a Hometown spokeswoman, adding, "We do not charge our dealers for merchandise that they do not receive." And, the company says, complaints that sales commissions are lower today than they were before the spinoff are unfounded. Sears Holdings spokesman Chris Brathwaite declined to comment, saying Sears Hometown is now a separate entity.
Hometown owners complain they are in direct competition with Sears. The latter's e-commerce site, Sears.com, and the department stores offer free delivery and installation on many items, whereas Hometown stores run their own delivery programs and must cover many of those costs.
Competition with Sears is a key complaint in a class-action lawsuit filed by owners of Hometown stores in Canada, which are still part of Sears Canada. The suit, filed in the Ontario Superior Court of Justice on behalf of about 260 stores, accuses Sears Canada of not honoring its obligations to owners, competing with them, and depriving them of the ability to earn a living. The plaintiffs are seeking $100 million in damages. Owners in Canada have "effectively been orphaned by Sears Canada," says David Sterns, a lawyer in Toronto representing the plaintiffs.
"We do not agree with the assertions made in the case," Sears Canada spokesman Vincent Power says. Sears Holdings, which owns 12 percent of Sears Canada, declined to comment; Lampert and his hedge fund own 49.5 percent of Sears Canada. Dozens of U.S. owners and former owners considered taking similar action, some owners say, but an arbitration clause in their contracts makes a lawsuit unfeasible.
Hansen, who walked away from his store in 2013, says his health has since improved. "My blood pressure's gone down," he says. "Since I've given the store back, I've had such a sense of relief."
The bottom line: Hometown franchisees and operators say their business has suffered since Sears spun off the division.
Before it's here, it's on the Bloomberg Terminal.
LEARN MORE