Will Nigerians Get to Vote This Time?
A postponed polling date has the nation on edge
By and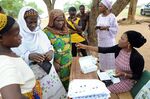 On March 28, Nigerians will go to the polls to elect the next government of Africa's most populous country. The choice is between the incumbent People's Democratic Party (PDP), led by Goodluck Jonathan, president since 2010, and the All Progressives Congress (APC), led by a former major general and onetime dictator of Nigeria, Muhammadu Buhari. Jonathan's supporters are mainly in the more prosperous, oil-rich south, which is mostly Christian and boasts sub-Saharan Africa's largest city, Lagos. Buhari's backers come from the impoverished, mostly Muslim north. The most recent polls, taken in December, showed a dead heat, with each candidate garnering 42 percent support.
Nigerians wonder if an election will actually take place on March 28. It was scheduled for Feb. 14, but less than a week before, the chairman of the election commission postponed it, because Jonathan's national security adviser said the army needed more time to make the north safe for voters. The militant Islamic group Boko Haram has terrorized much of the northeast since 2009, driving about a million Nigerians from their homes. "This election is to me a life-and-death issue," says Falmata Modu, a mother of four who fled fighting in the town of Bama. "I need someone who can have this nuisance sent packing from our towns." Troops from neighbors Niger and Chad have joined the Nigerians in attacking Boko Haram. Modu supports Buhari.
"I want to sell my goods all over the country, but that's not possible with the killings in some states," says Jonathan Agbai, who sells Hewlett-Packard and other well-known computers. "We underestimated the extent of the incursion into our territory," says Mike Omeri, a government spokesman. Boko Haram's kidnapping of more than 200 girls changed that, he says. In February, just after the election commission's postponement, the government unleashed its most ambitious offensive yet against the group.
The APC had prepared for a short campaign; its resources have been stretched by the postponement, says Femi Aribisala, a columnist for the Lagos-based Vanguard newspaper and a former professor at the Nigerian Institute of International Affairs. "If another poll delay occurs, the chances of social unrest turning highly disruptive will significantly increase," said Manji Cheto, the London-based vice president of consulting firm Teneo Intelligence, by e-mail. Some in the APC threaten to form a parallel government if they conclude their party is cheated out of power.
The PDP, formed by members of the former junta, hasn't been out of office since the generals ceded authority to civilians in 1999. The lack of a united opposition, until now, has allowed successive administrations to perpetuate the corruption of past dictators. A year ago, Jonathan ousted Lamido Sanusi, then-chief of the central bank, for alleged financial recklessness and misconduct after he claimed NNPC, the state oil company, had kept for itself $20 billion due the government.
A PricewaterhouseCoopers audit in February said NNPC had not held on to such a vast sum. But the audit did say the company improperly retained $1.5 billion and should give it to the government. When he received the PwC audit, Jonathan pledged that a new bill tightening regulatory oversight of the oil industry would guarantee the government gets its money.
Nigerians' problems are compounded by a weak currency. The naira has been Africa's worst performer since September, mostly because of the slide in oil prices. The tumble has pushed up the cost of imports of basics such as rice and fabric. In January the International Monetary Fund cut its 2015 forecast for Nigeria's economic growth to 4.8 percent from 7.3 percent. The average annual rate was 9.9 percent over the past 15 years.
It would be easy to write off Nigeria as doomed to perpetual division, violence, and corruption. In place of army rule a political system has evolved that hinges on allocating enough government posts between the north and south to maintain a fragile equilibrium. That takes money—lots of it. Senators in the capital, Abuja, make the equivalent of four times Barack Obama's salary. At election time voters are wooed with gifts of cash or rice. When these enticements fail, armed gangs are paid to rough up supporters of the other side. This battle to control the oil money caused 800 deaths and forced 75,000 to flee their homes after Jonathan's 2011 victory.
With the drop in oil prices, fewer petrodollars may prove as much of a blessing as the oil wealth of the past was a curse. A government strapped for cash will need to diversify the economy and start systematically collecting taxes. A nation of taxpayers will demand delivery of basic services—water, sanitation, and electricity—and a transparent government. But first a clean election must be held.
The bottom line: Nigeria is headed for an election as the economy slows to 4.8 percent GDP growth from an average of 9.9 percent.
Before it's here, it's on the Bloomberg Terminal.
LEARN MORE