Novo Sees U.S. Price Gains Even With New Sanofi Insulin
Makiko Kitamura and Allison Connolly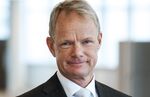 Novo Nordisk A/S is confident it will be able to raise prices in the U.S. on its diabetes products this year and next, even with increasing competition from Sanofi and copycat developers.
The Danish company expects net price increases of a "low single-digit" percentage, after rebates, on its insulin and other diabetes products, Chief Operating Officer Kaare Schultz said yesterday in an interview in London. Schultz, 53, was given the additional title of president last year, fueling speculation that he may become Novo's next chief executive officer.
The company's sales have been rising even as U.S. prescription payers seek to wring discounts from drugmakers in the world's largest insulin market. While Sanofi won U.S. approval last month for Toujeo, a successor to its top-selling Lantus insulin, the U.S. Food and Drug Administration didn't mention advantages over the older product in the prescription label. Novo's Levemir insulin has been taking market share from Lantus, Schultz said.
"We expect that there will continue to be list-price increases in the product categories where we operate and that there will be increased discounting," Schultz said. "So there will be a positive net pricing effect."
Novo Nordisk shares rose as much as 1.5 percent and were up 0.8 percent at 342.20 kroner at 11:58 a.m. in Copenhagen. That extended the gain to 31 percent this year.
CEO Succession
Schultz is a potential candidate to run Novo when the current leader, Lars Rebien Soerensen, steps down. Rebien Soerensen, 60, has said he probably won't remain in the job through the end of his contract in 2019. Schultz declined to comment on whether he will be the next CEO.
As it develops new products, such as semaglutide, a once-weekly oral diabetes drug that the company plans to move into final-stage testing, Novo is focused on in-house innovation and partnerships with biotechnology companies and academic groups rather than acquisitions, Schultz said.
"We are not foreseeing that we will go out and acquire other companies or acquire finished, developed products," he said. "It's very unlikely."
As for long-term strategy, the company will remain focused on diabetes as it also branches out into obesity, one of the main risk factors for the disease, Schultz said.
"The right way forward is to keep the strong focus on diabetes," he said.
Biosimilar Copies
Novo and Sanofi face potential competition from companies developing cheaper biosimilar copies of the French drugmaker's Lantus, which lost U.S. patent protection in February. Sanofi has said it doesn't expect biosimilar rivals to Lantus before 2019.
Still, without evidence that they work better than the original drugs, biosimilars are unlikely to unseat the market leaders, who give hefty discounts to large payers, Schultz said. Novo offers an average rebate of about 50 percent across its 2,000 U.S. contracts each year, he said.
"The system locks itself in with the big players," he said. "The rest have a very hard time getting in there unless they have a clinical hook" showing better efficacy.
Sanofi gave a tepid forecast in October for Lantus sales, and fired Chief Executive Officer Chris Viehbacher the next day. The Paris-based company said a few weeks later that sales from diabetes treatments will be flat to slightly growing through 2018.
FDA Label
While studies have shown that Sanofi's Toujeo achieves similar blood-sugar control as Lantus, patients taking the newer insulin had fewer low blood-sugar events at night, the company said in June. The FDA didn't include that finding for Toujeo's prescription information when it approved the drug, an omission that analysts at Barclays Plc led by Michael Leuchten said would make initial sales "more challenging."
Novo's biggest growth engine is the diabetes treatment Victoza, which stimulates natural insulin production. The company is preparing for discussions with the FDA on refiling its Tresiba insulin for approval. The agency rejected it in 2013 because of heart safety concerns.
A committee of 10 people created by Novo will decide whether to refile on the basis of interim analysis from a follow-up heart study or wait until the full data set is available, Schultz said. He and the rest of the company won't know the reasons for the decision, or its timing, which he said was an unusual approach.
"We're totally out of the loop," he said.
(An earlier version of this story corrected the spelling of Levemir in the third paragraph.)
Before it's here, it's on the Bloomberg Terminal.
LEARN MORE