Denham Seeks Invite From Obama to Talk Immigration
The Republican has split from his party on the issue but says he's never heard from the president.
By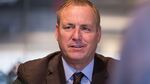 Republican Representative Jeff Denham has split with his party time and again on immigration. Even so, he says he's never heard from President Barack Obama, who has long said changing federal immigration policy is a top priority.