Scott Walker Hires Blogger Outreach Guru, Conservatives Throw Punches
Everything's a civil war in the invisible primary.
By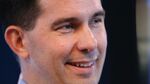 If you cover Republican politics from Washington, the odds are strong that you've interacted with Liz Mair, who was just hired to run social media outreach for Scott Walker's nascent presidential campaign. The strategist worked on rapid response at the Republican National Committee in 2008, for Carly Fiorina's 2010 U.S. Senate bid, for Rick Perry's 2014 presidential campaign. She's blogged and opined for most of that time, appearing on cable news shows, flying in to Los Angeles for hits on Real Time With Bill Maher. On Twitter, she's never pretended to be anything but–her words, now–a pro-choice, pro-gay marriage Republican in Name Only.
A quick search of Twitter will turn up many more examples of Mair thinking and talking like, basically, a moderate Beltway Republican. This has become a kind of problem. First, in the Des Moines Register, Mair's tweets mocking the right-wing tint of the Iowa caucuses (a perennial moderate obsession) became news. "Democrats pointed out to the Register that several of Mair's recent tweets bash Iowa," wrote Jennifer Jacobs, "including one on Jan. 22 when she suggests that Iowans are government-dependent for taking 'subsidies' for ethanol."
Next, Breitbart News reporter Matthew Boyle wrote that Walker had "made another massive misstep" by hiring Mair, whose "support for amnesty for illegal aliens, wide-open-borders immigration policies, and public advocacy for the Senate 'Gang of Eight' amnesty bill is sure to dog Walker in Iowa, South Carolina, and other early presidential states." Over 2,304 words, Boyle quoted Des Moines-based conservative radio host Steve Deace at length for zinger after zinger about Mair's unacceptability.
"How do you not vet people?" Deace asked. "Did they not even look at her social media postings? That's the stuff that's killer, that stuff. There's already local news headlines about it. That's the stuff that loses you elections. It's urinating in the face of voters and telling them it's raining."
Mair and Rick Wiley, a senior adviser to Walker's PAC, attempted to short-circuit the story by pointing out that the prolific commentator would not have an official policy role.  She had not been told to delete anything (a surefire way to create a staffer scandal), or alter her approach to social media. Reached for comment, Mair said she would no longer speak on the record. But by this morning, other Washington conservative writers were in the Twitter fray, defending Mair and asking why Breitbart News was on such a tear. After all, until 2012 Mair had actually written columns for Breitbart.
That reaction was retweeted or attaboyed by the co-founder of RedState.com, by former Breitbart writer (and current radio host) Dana Loesch–by people with some skin in the game. Boyle gave no ground.
The forces arrayed against Mair are outnumbered by the forces that think the whole crusade is silly. That doesn't mean an end to the staffer wars. Just a day before Mair's hire was announced, Jason Horowitz published a New York Times profile of David Lane, the evangelical leader who's bringing pastors together to vet candidates. For the first time, he was asked on the record what he thought of Jeb Bush hiring Tim Miller, a gay Republican who's also known and well liked in D.C., as his communications director. 
"I don't understand what he's up to," said Lane of Bush. "Personnel is policy."