Scott Walker Hires Blogger Outreach Guru, Conservatives Throw Punches
Everything's a civil war in the invisible primary.
By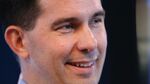 If you cover Republican politics from Washington, the odds are strong that you've interacted with Liz Mair, who was just hired to run social media outreach for Scott Walker's nascent presidential campaign. The strategist worked on rapid response at the Republican National Committee in 2008, for Carly Fiorina's 2010 U.S. Senate bid, for Rick Perry's 2014 presidential campaign. She's blogged and opined for most of that time, appearing on cable news shows, flying in to Los Angeles for hits on Real Time With Bill Maher. On Twitter, she's never pretended to be anything but–her words, now–a pro-choice, pro-gay marriage Republican in Name Only.