Lew Says He Didn't Pay Attention to Clinton's E-Mail Account
Ian Katz and Andrew Mayeda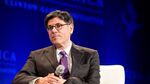 House Republicans drew U.S. Treasury Secretary Jacob J. Lew into the controversy over Hillary Clinton's use of a personal e-mail account, with Lew saying he didn't pay much attention to the address Clinton used while both of them worked at the State Department.
Lew, who was deputy secretary of state for management and resources in 2009 and 2010, said Tuesday he had no recollection of approving any request by Clinton to use personal e-mail. "I take responsibility for the operations that reported to me," he said in response to a series of questions by Representative Scott Garrett, a New Jersey Republican, during a House Financial Services Committee hearing on international financial issues.
Lew said he didn't recall discussing with Clinton whether laws or regulations prohibit the use of personal e-mail for official government work.
Clinton, secretary of state from 2009 until early 2013, used a private e-mail address and a home server while in the job. Her office said March 10 she gave 30,490 work-related e-mails to the State Department, which is reviewing them for public release. More than 30,000 other e-mails, which Clinton said involved personal matters such as wedding planning or yoga routines, were deleted.
Republican U.S. House Speaker John Boehner joined calls Tuesday for Clinton to turn over her private e-mail server to an outside arbiter, saying that the "American people deserve all the facts." Boehner said an outside review is the only way to determine if congressional investigators into the deadly 2012 attack on the U.S. consulate in Benghazi, Libya, have what they need.
Clinton's E-Mail
Lew said Tuesday that he "was aware that she was e-mailing with people. I didn't pay a lot of attention to what e-mail she was using."
Garrett then asked if Lew had never noticed the account Clinton's e-mail "was coming from."
"I'm telling you that at the time I was mostly paying attention to the substance of what I was communicating," Lew said.
In another exchange with Representative Sean Duffy, a Wisconsin Republican, Lew said that his "general mode of communication with the secretary was meetings and phone calls."
"I did e-mail with her from time to time, and I don't remember exactly how it showed up," Lew said. Asked if he remembered corresponding with Clinton on a non-government account, he said, "I don't remember giving it a lot of thought."
For related news and information: House Panel Subpoenas Private Clinton E-Mails for Libya Inquiry Use of Phony E-Mail Addresses by U.S. EPA Officials Probed Obama Transparency Suffers as State