politics
Iranian Leaders 'Clearly' Got Letter's Message, Tom Cotton Says
Kathleen Hunter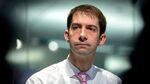 Iranian leaders "clearly have the message now" from a letter 47 Senate Republicans wrote warning that a future U.S. Congress could reverse any nuclear deal, the chief author said Tuesday.
President Barack Obama considers the Republican-led Congress to be a "nuisance," freshman Senator Tom Cotton, an Arkansas Republican, said as he defended the letter following criticism from U.S. allies and lawmakers including some fellow Republicans.
"This president views Congress as an afterthought," Cotton said at a breakfast with Bloomberg reporters and editors in Washington. "Iran's leaders clearly have the message now, and I think it was important they got the message."
Cotton said he "absolutely" stands by the decision to address the March 9 letter to Iran's leaders. White House officials and Democratic lawmakers have accused Cotton and his colleagues who signed the letter of undermining the administration's efforts with five other world powers to get an agreement with Iran in the nuclear talks before an end-of-the-month deadline.
"That's because they know the offer is indefensible," Cotton, a member of the Senate Armed Services Committee and a former U.S. Army lieutenant, said of the critics. He said the administration can't justify "the very bad deal that they're about to make."
Obama missed an opportunity to use congressional oversight as leverage in the talks, Cotton said.
'Hard Bargain'
"The president who was intent on driving a hard bargain and a bargain that would be lasting would have been telling his negotiating partners from the very beginning that Congress needs to approve any deal if any deal is going to be lasting," he said.
The president told reporters at the White House last week that the lawmakers seemed to be "wanting to make common cause with the hardliners in Iran." The White House and Democratic campaign organizations also have been highlighting newspaper editorials from around the country that denounced the letter.
At least two Republicans who signed it -- John McCain of Arizona and Ron Johnson of Wisconsin -- said last week that they would have approached the matter differently in retrospect.
'Tactical Error'
Johnson said it may have been "a tactical error" to address the letter to Iranian leaders, rather than to Obama's administration or the American people. McCain, a prominent Republican voice on foreign affairs and national security, said in an interview with Politico that an impending snowstorm in Washington short-circuited more measured consideration of the letter.
Cotton said he discussed the letter at two closed-door sessions with fellow Republicans as well as in numerous one-on-one talks prior to its release.
Texas Senator Ted Cruz, a potential 2016 Republican presidential candidate, said Tuesday in an interview with MSNBC that he would sign the letter again "in large print, so that the ayatollah wouldn't need his reading glasses."
The missive has escalated political rancor in Washington surrounding the Iran negotiations, complicating Foreign Relations Chairman Bob Corker's efforts to cobble together enough Democratic votes for a measure requiring congressional review of any Iran nuclear deal to overcome an Obama veto.
Counting Votes
Republicans hold 54 seats in the Senate and 10 Democrats have said they'll support Corker's measure, though only after the end-of-the-month deadline passes for the round of negotiations among the U.S., five other world powers and Iran. That would be three votes short of the number needed to override a veto.
Corker, one of seven Senate Republicans who didn't sign the letter, told reporters Tuesday that his panel may vote on his proposal March 25 or 26.
The Iranian delegation to nuclear talks in Lausanne, Switzerland, raised concerns on Sunday and again with U.S. Secretary of State John Kerry on Monday about the letter, according to a U.S. official, who declined to detail what was said and spoke on condition of anonymity under diplomatic protocol.
More than two-thirds of Americans -- 69 percent -- support direct negotiations with Iran to prevent the country from developing nuclear weapons, while just 32 percent said they thought the letter hurt U.S. efforts to reach a deal, according to a CNN/ORC poll conducted March 13-15. More than half -- 62 percent -- said the Republicans' letter either had no effect or helped the talks.
Budget Amendment
Although he declined to provide details, Cotton said he may use the letter as a basis for crafting a amendment to the fiscal 2016 budget blueprint that the Senate is tentatively scheduled to consider on the floor next week.
If the negotiations fail to yield an agreement, Cotton said the potential use of military force to delay an Iranian nuclear program must be a credible option and "not just words the president mouths."
"But that would not be the first option," he said, adding that his first option would be tougher sanctions and confronting Iranian influence regionally.
Asked whether he thinks the U.S. possessed the military capability to slow or derail an Iranian nuclear weapons program, Cotton said he is monitoring the issue.
"It's something that I watch very closely," Cotton said. "Broadly speaking, not just about the United States but our allies, if the question is 'can we eliminate or at least significantly set back Iran's nuclear weapons program,' the answer is it is possible."
(Updates with Corker comments on timing of committee vote on oversight bill in 15th paragraph.)
Before it's here, it's on the Bloomberg Terminal.
LEARN MORE