House Republicans Seek Medicare Cuts That Senate Is Sure to Reject
Heidi Przybyla and Erik Wasson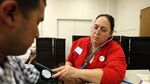 House Republicans are proposing to cut $5.5 trillion in U.S. government spending and balance the budget in nine years by cutting Medicaid and food stamps and partially privatizing Medicare.
The House plan released Tuesday, straight from Representative Paul Ryan's budgets of the past, is sure to run into opposition among Republicans who control the Senate. Almost half the Senate Republicans are up for re-election next year, and few senators are eager to run on a budget that would cut benefits for senior citizens.
"Our budget will balance," House Speaker John Boehner told reporters at a news conference in Washington. "It's also about growing our economy, growing jobs and building economic strength for our future."
The Senate won't make specific cuts to Medicare in its proposal due Wednesday, said an aide familiar with the plan -- evidence of the deep splits inside the Republican Party over how to govern.
"What you're asking me is, yeah, hey, Republicans, why don't you go on a kamikaze mission here and why don't you lead and give your political opponents all this ammunition to just slaughter you in the next election?" Senator Ron Johnson, a Wisconsin Republican whose seat is up in 2016, told Bloomberg reporters and editors last week.
President Barack Obama used a meeting with Irish Prime Minister Enda Kenny to tweak Republicans on their budget priorities.
Irish Luck
"I was hoping for a little luck of the Irish as Republicans put forward their budget today," Obama told reporters in the Oval Office. "Unfortunately what we're seeing is a failure to invest in education, in infrastructure."
The House Republican plan is "not a budget that's going to ensure that middle class families" have economic security, Obama said.
For five years, Republicans used hardball tactics to try to force Obama to slash federal spending and blamed former Senate Majority Leader Harry Reid, a Democrat, of blocking proposals to overhaul federal entitlements.
Now that Republicans control both chambers, internal divisions between party members seeking higher military spending and others looking to maintain hard-fought spending cuts may prevent them from agreeing on their own budget.
Tea Party
The stakes of the budget negotiations -- which pit Tea Party House Republicans seeking deep entitlement cuts against many of their fellow Republicans -- aren't merely financial.
The proposal by House Budget Committee Tom Price of Georgia assumes $2 trillion in savings from a full repeal of Obama's health-care law. A budget agreement between the two chambers would permit the Senate to pass revisions to Obamacare later this year with a simple majority and no need for Democratic votes.
The Supreme Court is set to rule by late June on a challenge to Obamacare's health-care subsidies in states that didn't create their own insurance exchanges. If the court bars the subsidies, Republicans want to change the law by using the simple-majority tool.
Tuesday's proposal by Price is similar to a previous Medicare plan by his predecessor, Ryan of Wisconsin, that sought to turn the health-care program for the elderly into a voucher system.
Cutting Medicare
Price's budget would cut Medicare by $148 billion through 2025. Starting in 2024, Medicare beneficiaries would choose from a range of options, including traditional Medicare and private coverage. The government would issue fixed payments directly to the plan.
The budget would cut $913 billion from Medicaid, the health-care system for the poor, over the same time period by issuing block grants to states. They would manage their own programs, either by cutting benefits or generating their own revenue to fund any shortfalls.
Food stamps, the federal nutrition program, would be turned over to states to administer beginning in 2021.
"These reductions are hardly Draconian," said Price's budget proposal. "It protects key priorities while eliminating waste."
While the plan seeks to balance the budget by cutting $5.5 trillion, the plan's instructions for specific spending-reduction legislation would add up to about $5 billion over 10 years, far short of the amount sought by 2025.
Floor, Ceiling
Those cuts are a "floor, not a ceiling," Price told reporters Tuesday.
Many Senate Republicans don't want to cut entitlement programs such as Medicare and Medicaid. About 60 Tea Party-aligned House Republicans insist on addressing such programs, which are the main sources of the federal deficit.
"This group is still furious with their leadership over what they consider to be a sell-out" by Republicans on funding for the Department of Homeland Security, said Stan Collender, executive vice president of Qorvis MSL Group, a communications strategy firm in Washington.
Republican leaders this month abandoned an attempt to roll back Obama's orders easing deportations for undocumented immigrants by including it in a Homeland Security funding bill.
The House plan would use an accounting maneuver in an attempt to satisfy defense hawks who want to ease military spending cuts scheduled to take effect in October.
Military Spending
Senators such as John McCain of Arizona won't support deep cuts in military spending, which Senate Budget Committee Chairman Mike Enzi, a Wyoming Republican, said he plans to keep.
Price's proposal would budget about $94 billion for a special war-funding account that isn't subject to the spending limit -- the Overseas Contingency Operations account, which funds military activities in Iraq and Afghanistan.
In February 2012, the website of the Senate Budget Committee -- led at the time by Enzi -- called a similar idea by Democrats a "gimmick."
Price said he is working with Armed Services Committee members to secure their support by identifying specific offsets to pay for increased war funding. About 70 defense hawks had written a letter saying they will block a budget plan that doesn't increase defense spending.
'More Resources'
"What we are demonstrating to them is that our budget actually provides more resources than the president's budget does," Price said.
Obama has proposed reducing the war-funding account to $58 billion for the 2016 fiscal year, compared with $73 billion this year. His budget, released in February, was designed to pressure Congress into boosting annual defense and domestic spending in tandem, in part by cutting the war-funding account.
Another potential challenge for Republicans is that their budget blueprint doesn't say how they would replace revenue from the Obamacare taxes it proposes to repeal.
The House budget plan would provide the government with $41.7 trillion in revenue over the next decade, about $77 billion less than what the government would collect if Congress does nothing.
The military "slush fund and revenue baseline are pretty blatant gimmicks," Ed Lorenzen, senior adviser at the Committee for a Responsible Federal Budget, said in an e-mail. The military fund "pretends to comply with caps and doesn't require offsets for increased spending," he said.
Republicans say they are searching for ways to offset the $94 billion, though Representative Vicky Hartzler of Missouri, a Republican, said about $73.5 billion of it wouldn't be offset.
Automatic Cuts
The stage is set for a clash over automatic spending cuts set to take effect in October.
The limits were enacted as part of the 2011 Budget Control Act, intended to cut $1.2 trillion in spending through 2021. Congress voted to ease the spending reductions for the past two fiscal years, and the question is whether lawmakers will do the same for 2016.
Obama has called for an end to the automatic cuts. His budget plan offered a $38 billion increase for national security programs over current budget caps, and $37 billion more for domestic programs.
Many Republicans consider the 2011 law one of their most significant achievements and they will fight hard to preserve it.
Outside groups that are pressuring Republicans to cut back on Medicare and Social Security are preparing for a letdown.
"They certainly have the opportunity to put forward a bold document" that reduces entitlements, said Dan Holler, a spokesman for Heritage Action for America, a small-government group. "It would be surprising to see them approach it from that perspective."