Why TED Speakers Wear Those Weird Headsets
The origins of those unmistakeable mics
Belinda Lanks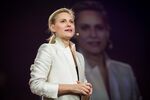 If you want a front-row seat at TED Talks, the annual gathering of intellectual bigwigs, you'll have to pay $8,500. Suddenly that $10,000 solid-gold Apple Watch doesn't sound so frivolous.
If you're not in the market for a luxury timepiece or a TED ticket, you can always wait for the edited presentations to become available online, complete with close-ups of "thought leaders" wearing those unmistakeable microphones on their heads, with a foam ball hanging like a distracting crumb at the corner of their mouths. 

That headset—along with its red-letter logo—has become a signature part of TED's brand. And it will no doubt be a presence yet again this week, when at least 35 experts descend on Vancouver, British Columbia, to deliver 18-minute treatises ranging in subject from performance art to planetary exploration.
Why use a headset rather than a clip-on—also known as a lavalier—mic? A lavalier, while a suitable choice for TV talk shows, isn't the best choice for TED, where feedback can occur as sound is amplified over speakers, said Nick Malgieri, who was TED's head of audio from 2009 to 2014 and officially introduced the current headset model in 2012. He said that even under the best circumstances—with a good sound system amplifying a presenter who can enunciate and project her voice—a lavalier "works just well enough." A handheld mic is cumbersome and hard to hold steady. 
But there's another, more compelling reason why the headset is used: Technology has always been a conspicuous part of the show. The conference's founder, architect and designer Richard Saul Wurman, "had no problem showing the tech," Malgieri said, including a rather obvious microphone affixed to speakers' heads. "Developing the presentation in front of the audience was part of the charm." It wasn't uncommon, he said, for Wurman to stop the action to tweak technological details such as the sound level and lighting. 
TED is now owned by Chris Anderson, the British magazine publisher and entrepreneur, and is run through his nonprofit Sapling Foundation. But the headset persists for a variety of practical, aesthetic, and marketing reasons.

A headset, besides providing better sound quality than a lavalier, is a one-size-fits-all solution for an event involving a wide range of presentation styles as well as music and other live performances. "Using the headset allows us to say, 'Yes, we can do that,' as changes to the program happen," Malgieri said. Occasionally, the AV crew will acquiesce to a speaker's request for a lavalier, but those instances are rare. Ngozi Okonjo-Iweala, a Nigerian economist, and Amy Cuddy, an American social psychologist, were two of last year's exemptions.
The organizers could use a more discrete mic, and before 2012 they did—a headset called the Countryman E6, with a hairline profile down the cheek. But that model's inconspicuousness became a problem as broadcasting the conference turned into an important marketing tool and that mic was viewable on high-definition screens. "Suddenly," Malgieri said, a minimal mic became more distracting, because you could see it but couldn't tell what it was or why it was there." 
So he switched over to the DPA 4088, TED's current mic of choice. Malgieri used it on Anderson in 2011, and was so impressed with the sound quality that he bought 24 more the following year. The headset provides consistently clear sound, and the windscreen—that little foam ball at the end—prevents puffs of air from a speaker's mouth from being amplified and comes in three shades, so it can be color-coded to roughly match a person's skin tone. "They are the best sounding headsets I've ever used," Malgieri said, because they isolate a speaker's voice for a live audience while delivering a natural sound for a secondary audience listening to the recorded presentations on screens. And because it wraps around both ears, it's more anchored than the Countryman, which needed to be molded to a speaker's head and secured with medical tape.
For Malgieri, the DPA's presence at the conference has become a persuasive point when trying to win other clients over to the mic, even when they aren't enamored with the headset aesthetic. "I say, 'Well, TED uses them.' And all of a sudden, they say, 'Well, OK, we can do that.'"
Join us on April 28 in San Francisco for Bloomberg Businessweek Design 2015.